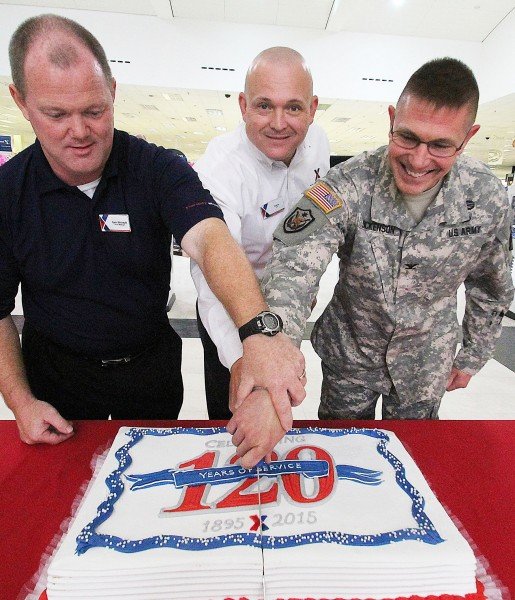 By Jessica Ahles
Special to The Citizen
The Army and Air Force Exchange Service has come a long way since its beginnings when on-post canteens were the first facilities to provide troops with a taste from home. Back in those days, this usually meant a bowl of oyster stew, a cup of coffee, or provided you were on the later side of the prohibition, a glass of beer with cheese and crackers. This year marks the 120th anniversary of what we know today as the Exchange, when AAFES formally began providing food, recreation, entertainment and services to support the men and women of the armed forces around the world.
Recognizing the value of these services, the War Department issued General Orders 46 on July 25, 1895, directing commanders to establish an exchange at every post. Today, more than 2,400 Exchange facilities operate worldwide, serving soldiers, airmen and their families in all 50 U.S. states and 33 countries.
Though much has changed in 12 decades and continues to evolve today, the AAFES core mission has remained the same: "We go where you go."
"In my 24 years of service…I've been enjoying the great services AAFES has provided us," said USAG Stuttgart Commander Col. Glenn K. Dickenson. "Whether it's in garrisons in great places like Stuttgart; over in the states; or deployed in Iraq, Afghanistan, Bosnia, and all over the world; wherever service members go, the Exchange is there and we appreciate it from the service member's perspective."
The Stuttgart community observed their local Exchange's birthday Saturday, July 25, in the Panzer Main Exchange Mall. Celebrated with cake, balloons and Exchange-themed giveaways, the festivities provided something for the whole family.
Attendees received special in-store offers such as clothing starting at $1.20, as well as vendor food court deals including Burger King Whoppers hot on the grill for only $1.20. Culligan water was also onsite to discuss healthy choices, while the Grüenstadt bakery handed out boxes of free donuts and talked about their newest addition to the menu – the Krispy Kreme – planned to arrive later this year. AFN Stuttgart was there to capture it all, remote broadcasting live from the mall.
Photo contest winners were announced during the award ceremony Saturday afternoon. Weeks prior, the Stuttgart community was challenged to submit their best photos featuring an "X" in celebration of the occasion. The public cast their votes on AFN Stuttgart's Facebook page and the winners received Exchange gift cards, free theater tickets, as well as a print of their prize-winning shot.
"This contest was kind of a heart attack for me because you could see your votes rising and how well [your photo] was doing compared to others," said Gina Kozak, third-place contest winner. "It was the first thing I looked at every morning thinking, 'Oh, where's my picture? How many votes do I have?' It was definitely nerve-racking."
After the cake was cut and the celebration came to an end, General Manager Chris Holifield expressed his gratitude to the Exchange staff for their hard work as well as the community for their loyalty for years to come.
"A big thanks to all of our team members here today," he said. "Without people like this, we wouldn't be around for 120 years. I also want to thank the community for your support these past years and your continued support in the future."