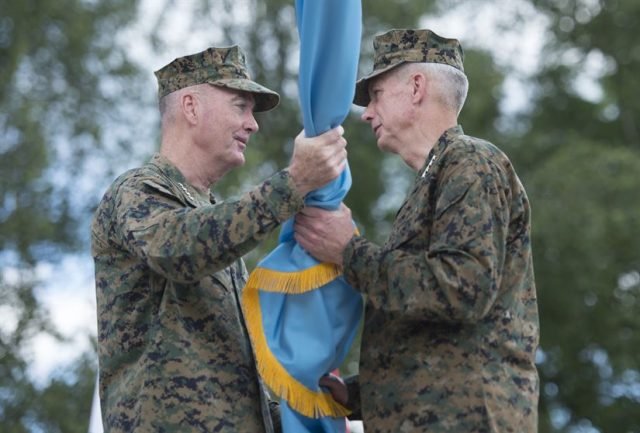 By Lisa Ferdinando DoD News, Defense Media Activity
In a change-of-command ceremony, July 18, 2016, the chairman of the Joint Chiefs of Staff welcomed the new commander of U.S. Africa Command, Marine Corps Gen. Thomas D. Waldhauser, hailing him as an exceptional leader who is ready to address Africa's complex security challenges.
Marine Corps Gen. Joe Dunford presided over the event, which saw Waldhauser assume command from retiring Army Gen. David M. Rodriguez.
Dunford described Waldhauser and Rodriguez as extraordinary leaders who have served the nation for decades. Rodriguez demonstrated great leadership at AFRICOM, Dunford said, noting that the same level of excellence will continue under Waldhauser.
"I can assure the men and women of AFRICOM that in General Tom Waldhauser you're getting the best our nation has to offer," the chairman said.
Waldhauser, the first Marine to command AFRICOM, is regarded "as one of the most operationally competent leaders we have in our force today," Dunford said, noting he has known Waldhauser for decades, from when they both served together as lieutenants.
 VIDEO | 00:14 | Dunford Describes U.S. Africa Command's Mission
Challenging Mission
In partnership with 53 African nations, AFRICOM tackles diverse and broad challenges including Ebola, violent extremism, transnational terrorism, trafficking and piracy and the recent crisis in South Sudan, chairman said.
"The responsibilities of AFRICOM highlight both the complexity of today's security environment and the demand for a capable, flexible and responsive joint force," Dunford said.
It would be an understatement to say that AFRICOM's mission is dynamic and challenging, he added.
New Commander Seeks Creative, Viable Solutions
Waldhauser said he is honored to have been selected for the post. He acknowledged the many challenges ahead.
VIDEO | 00:24 | New Commander Describes Challenges Ahead for AFRICOM
 "It is up to us to bring forward creative and viable solutions to these challenges and view each one as an opportunity to work with and assist our African partners, not only today, but in the future as well in building a secure, a stable and prosperous African continent," he said.
Waldhauser received his fourth star prior to the change-of-command ceremony, with his mother and his wife pinning the new rank on his uniform.
In his speech, Dunford recognized Waldhauser's distinguished career — he led the 15th Marine Expeditionary Unit after 9/11 — and planned, executed and conducted operations in Pakistan, Djibouti, Afghanistan and Iraq. He commanded a division, a Marine expeditionary force, and Marine Forces Central Command.
Waldhauser also served as the senior military assistant to the secretary of defense, and was most recently the director of joint force development for the Joint Chiefs of Staff.
Outgoing Commander Reflects on Challenges, Successes
Rodriguez said he thought he was ready for the challenges of AFRICOM when he assumed command in 2013. But, he said, he never imaged the situations that would arise, including the fast-spreading deadly Ebola outbreak, an embassy evacuation, piracy in the waters off Africa, as well as challenges with trafficking and migration.
"Despite my steep learning curve, I'm extremely proud of everything we've accomplished here at Africa Command and in Africa with our partners, our allies and the interagency team," he said.
Rodriguez credits the generosity of the partners for making it possible for the command to improve its responsiveness, posture and access, and reach agreements to increase the security for U.S. personnel and facilities in Africa.
VIDEO | 00:19 | Outgoing AFRICOM Commander Stresses Partnerships
Retiring after 40 years of service, Rodriguez said he learned from each of his posts over the years, but described AFRICOM as the one in which he is most proud.
"The command embodies the spirit of the African proverb that AFRICOM has been quoting long before my time here, and I hope a long time after: 'If you want to go fast, go alone. If you want to go far, go together,'" he said.
AFRICOM was established in 2008 to coordinate U.S. military relations and activities with African nations, regional organizations and the African Union.