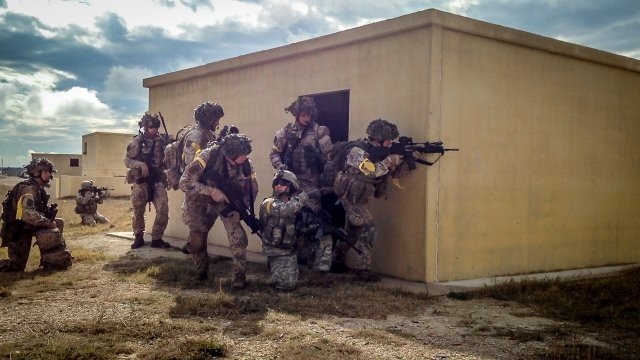 By Master Sgt. Jennifer Foster, AFN Benelux , Sgt. Daniel Cole, U.S. Army Europe Public Affairs
The National Guard's State Partnership Program, or SPP, is bearing fruit at the largest NATO exercise to take place in more than 20 years – Exercise Trident Juncture 15.
Soldiers  from the Michigan Army National Guard, are conducting joint training operations with their SPP counterparts from the Latvian army at the San Gregorio training area in Spain. The small unit training focuses on clearing buildings, finding and eliminating opposing threats and learning how to communicate with each other in complex urban terrain.
"Michigan has a state partnership with Latvia and I think it's important for a lot of these guys," said U.S. Sgt. Michael McNichole, a team leader assigned to Alpha Company, 1st Battalion, 125th Infantry Regiment. "Working with a different country that we could be working with in the future on a deployment or in a combat zone is very important. It's learning that they're comfortable working with us, we're comfortable working with them and we both know how each other works and operates and we communicate through those language barriers."
Of course, it is not only the U.S. Soldiers, who are enjoying the opportunity to be here. Capt. Arnis Mezals, the Latvian company commander of the infantry unit training alongside the Michigan National Guard Soldiers here, said this type of training with the United States brings great reward.
"The reason why we're all here is just to train and show ourselves, see our allies, and see if we can work together," Mezals said. "The more people we bring here, the bigger the challenge and the bigger the reward of knowing this whole bunch can work together."
Mezals said the training area is very different than what his soldiers face back home in Latvia.
"The training area itself with its rolling hills, the open valleys, the enormous hills and very deep and dangerous valleys is an excellent terrain for me to train because I don't get to train like this back at home and for our guys, for my infantry, it's the perfect opportunity to see how we can operate in this terrain."
Staff Sgt. Daniel Blaser, a rifle squad leader assigned to 1st Battalion, 125th Infantry Regiment, said the training "couldn't really be going any better."
"We've done a lot of things with the Latvians that have integrated us well into their unit," Blaser said. "It feels like we're being welcomed. We do our best to treat them with respect and vice versa."
"Working with Americans is no challenge, there's no bigger or smaller, it's just so much fun and so much I'm getting out of it, and my guys are getting out of it a lot, and I love it," Mezals said.
Exercise Trident Juncture 2015, which boasts more approximately 36,000 participants from more than 30 nations, is being conducted primarily in Spain, Portugal, and Italy with additional activities in Belgium, Canada, Germany, the Netherlands, Norway, as well as maritime operations in the Atlantic Ocean and Mediterranean Sea.
The aim of the exercise is to train the troops of the NATO Response Force and other allied forces.