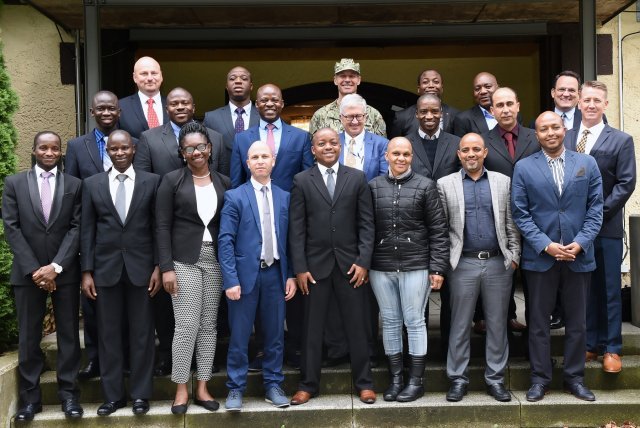 By Christine June
George C. Marshall European Center for Security Studies
Sixteen military and civilian leaders from 13 African countries met with officials to discuss U.S. military involvement on the African continent during a visit to the U.S. Africa Command in Stuttgart July 26.
"Here's a chance for our African partners to meet face-to-face with the Americans who are intimately and daily involved with designing and operating programs in support of their countries and continent," said James Howcroft, course director for the Program on Terrorism and Security Studies (PTSS) at the George C. Marshall European Center for Security Studies in Garmisch-Partenkirchen, Germany. "I think the ability for both sides to break down all the communication barriers and have a face-to-face talk about what they really need to ensure AFRICOM's intended help is effective and efficient."
Offered twice a year at the Marshall Center, PTSS is a four-week resident program that provides advanced professional education to those charged with understanding and then reducing the scope and capability of terrorism threats. This class has 81 participants from 57 nations.