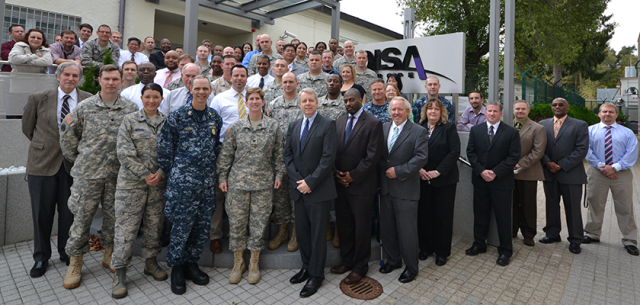 By Lt. Brian Karlo
Defense Information Systems Agency Europe
Air Force Lt. Gen. Ronnie D. Hawkins Jr., the Defense Information Systems Agency director, was at Patch Barracks March 31 to host the 2014 DISA Awards Ceremony to recognize the exceptional achievements by DISA employees at headquarters and field offices around the world.
Stuttgart is home to two DISA field offices: DISA Europe, commanded by Army Col. Jacqueline Brown, and DISA Africa, commanded by Air Force Lt. Col Rocky Favorito.
This event recognized and honored the individuals and teams who demonstrated the highest standards of performance, dedication and service in keeping with the DISA ethos, core values, and creed.
"We recognize all the award recipients, the nominees, as well as the people who nominated them. It's a team sport," Hawkins said. He also acknowledged the individuals who supported the honorees: the team members and colleagues at work, as well as the family and friends outside of work.
DISA sets aside one special award for a person or organization that makes an exceptional effort to support the DISA mission. This year DISA's "External Contributor Award" went to the U.S. European Command J6, led by Army Brig. Gen. Welton Chase.
In a time when DISA services and capabilities are needed more than ever for effective and efficient communications supporting warfighter operations, and leadership command and control, there exist few leaders or teams such as EUCOM's J6 who strike the perfect balance between a vision for their particular mission, a drive for leading edge services and capabilities, and an advocacy for DISA missions, said DISA officials.
DISA Europe winners
• Outstanding Field Command of the Year
• The Director's Award: Lt. Col. Keith Repik
• George J. Hoffman Civilian Leadership Award: Samuel B. Milford II
• Robert W. Hutten Strategic Development Excellence Award: Avery Muse
• Outstanding Mentor of the Year: Senior Master Sgt. Brandon Koll
• Administrative Assistant of the Year: Nemesia Gutierrez
• DISA Noncommissioned Officer of the Year: Staff Sgt. Jasmine McKinney
• Outstanding Achievement in the Support Services Fields: Megan Von Bokel
• Equal Employment Opportunity Non-supervisor of the Year: Rodolfo Fuentes
• Outstanding Nontechnical Program/Project Team of the Year: EUCOM/ DISA HQ/DISA Europe combined Ukraine Cyber Assistance Team consisting of Chief Warrant Officer 4 Ivery Torbert, Breck Warner, Lt. Col. Francisco Ranero, Carlos Everfield (EUCOM/J6), and Jeffrey Keyser (DISA HQ).