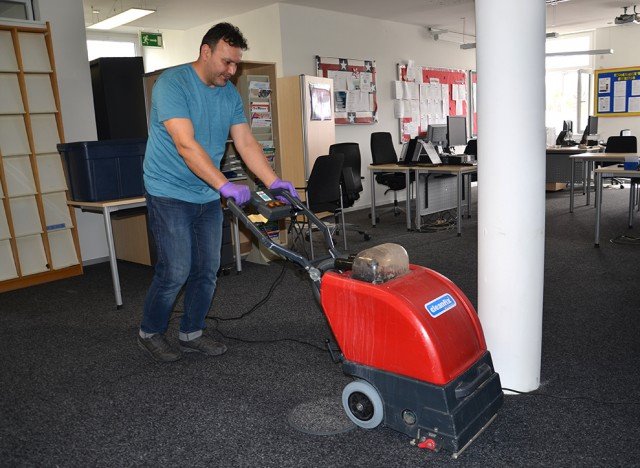 S.J. Grady
USAG Stuttgart Public Affairs Office
Offices in Building 2915 on Panzer Kaserne sustained water damage overnight due to a broken water pipe on building's the third floor, according to U.S. Army Garrison Stuttgart officials.
Water pooled on the floor of a room on the third floor, leaked down into the Army Community Service Offices on the second floor, the first floor, and into the basement.
Water damage mitigation efforts are already underway.
In the meantime, most offices on the post office-side of the building are without power and are not open at this time. Officials advised that email and web connectivity may be intermittently affected.
Community Bank, Red Cross, VAT and UTAP offices, Education Center and the ID Card and IACS offices are unaffected.
Service Credit Union, the Panzer Post Office and the USO are closed, while Army Community Service has moved its personnel to unaffected office space in the building.
The ACS Loan Closet is operational, but because of connectivity issues, ACS is able to provide limited services. Officials recommend that customers call ACS before visiting to the facility.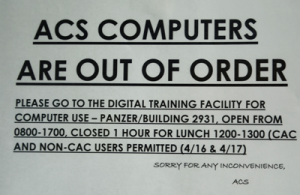 Army Community Service has arranged with the Digital Training Center in Building 2931 on Panzer to offer printing, copy and computer services for ACS and USO customers today and tomorrow.
Currently, the elevators are not functioning.
Service Credit Union plans to open on Saturday, April 18.
Postal services are available at Patch and Kelley Barracks.
Tomorrow ACS will be open from 8 a.m. to 2 p.m. The staff will then begin to set up for the annual  Volunteer Recognition Ceremony at the Swabian Special Events Center on Patch Barracks. Registration begins at 5 p.m., the ceremony will start at 6 p.m., followed by a reception at 7 p.m.