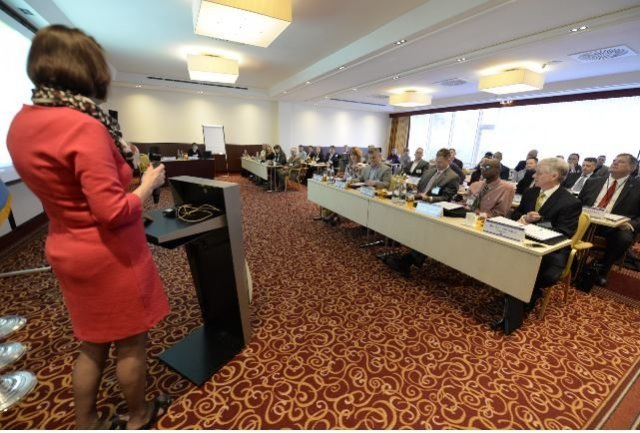 By Staff Sgt. Grady Jones
U.S. Africa Command Public Affairs
U.S. Africa Command hosted a Resources and Assessments Workshop, March 14, 2017, at the Marriot Hotel, Heidelberg, Germany.
Led by the AFRICOM Directorate of Resources and Assessments, or J8, the theme of the event was "Pathway to Collaboration, Enhanced Capabilities and Fiscal Stewardship."
Representatives from each of the AFRICOM Directorates participated in the one-day workshop as well as military and civilian leaders from Headquarters AFRICOM, U.S. Army Africa (USARAF), Air Force Africa (AFAF), Naval Forces Africa (NAVAF), Marine Forces Africa (MARFORAF), Special Operations Command Africa (SOCAF), and Combined Joint Task Force – Horn of Africa (CJTF-HOA).  Other organizations supporting the event included US Navy Fleet Forces Command (USFFC) and Joint Special Operations Command (JSOC).
"For AFRICOM to be successful, all members of the joint team must work towards unilateral goals," said David Thiede, director, AFRICOM J8. "Each of the components brings its own capabilities and expertise."
Topics discussed included the future posture of U.S. forces in Africa, current operations, crisis management, West Africa Logistics Network concept, and construction projects.
Guest speaker, Laura Jankovich, deputy auditor general, U.S. Air Force, spoke about audit readiness and internal controls, while emphasizing that with sustained emphasis and commitment from DoD leaders, the DoD workforce, and Congress, fiscal goals for the military will be met.
"The key takeaway form my discussions is that small daily improvements are the key to staggering long term results," Jankovich said.
Other issues discussed were various financial challenges of AFRICOM on the African continent itself, to include accounting issues, disbursement of funds, and getting people paid, according to Mary Eisenhauer, comptroller, AFRICOM J8.
The fact that people deal more in legal tender in Africa instead of banks and routing numbers, is just one of many financial challenges, according to Eisenhauer.
"Because people in Africa deal mainly in cash, we must track funds differently and train on tracking payments to ensure fiscal accountability," said Eisenhauer.
Recently, AFRICOM commander Gen. Thomas Waldhauser, reported the financial stance of AFRICOM and operations in Africa during his annual posture statement to Senate Armed Services Committee.
"We (J-8) gave the commander the financial figures, not just for AFRICOM overall, but also for ongoing operations," said Eisenhauer. "It's our legislative branch that makes the decision whether or not we will continue with certain operations."
Another area discussed during the workshop was costing reporting from the subordinate components under AFRICOM.
"Each subordinate component, USARAF, NAVAF, AFAF, MARFORAF, SOCAF, and CJTF-HOA, uses different financial systems," Eisenhauer said. "So, it's important to have a common way to report the costs of the different operations to the combatant commander… to give the commander good, realistic, and accurate numbers for fiscal purposes."
Information sharing opportunities develop stronger working relationships between the headquarters and the components as a better understanding of service responsibilities, according to Eisenhauer.
"We already conduct teleconferences to collaborate on a biweekly basis, but bringing the team together with the larger J8 and AFRICOM team paid huge dividends," said Eisenhauer. "It was good for them to hear the briefings from the (directorates) as well as to discuss BOS-I (base operating supporter-integrator) challenges and strategies, operational costing, and logistics network issues."
Overall the workshop was a success, according to Michael McGee, program analyst, AFRICOM J8.
"We had outstanding cross-flow of communication between the AFRICOM staff and the AFRCICOM service component representatives," said Cheryl Escher, financial management analyst, AFRICOM J8.
"For the first time in my experience here at AFRICOM, I saw advocacy as a group effort," said Ms. Tekin-Deherrera, agreements manager, AFRICOM J8.
AFRICOM J8 is planning for another for another fiscal workshop in the future as it continues its mission of working toward a safe, stable, and prosperous Africa.