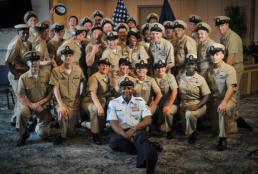 By Holly DeCarlo-White
USAG Stuttgart Public Affairs Office
In September 2016, Petty Officer 2nd Class Maria Rachel Melchor reported on the group of newly pinned chiefs within U.S. Army Garrison Stuttgart, who completed two phases of Chief Petty Officer 365, a 52 week leadership training program that consists of practical application of leadership styles and mentorship while being placed in multiple atmospheres and situations.
During the ceremony, Rear Admiral John Smith, Chief of Staff of U.S. European Command, said the term "ask the chief" is esteemed, and is the foundation of the Chief Petty Officers Association.
Command Master Chief Matthew Harris, Defense Information Systems Agency (DISA) Europe senior enlisted adviser, who aided to lead the 365 training, defines the history of Navy Chief Petty Officers, today.
"For the last 124 years, the Navy Chief Petty Officers have been leading Sailors, maintaining standards and upholding our rich traditions and heritage. From wooden decks of the USS Constitution to the steel decks of the modern warships we stand ready to lead our combat mariners on land, in the air, on and under the seas, in space and cyberspace to fight and win our nations battles," said Harris.
On April 1, CPOA turns 124. CPO's in Stuttgart celebrated early on March 30 with an association fun run held on Patch Barracks and a community cake cutting for all on Patch and Kelley Barracks and Panzer Kaserne.
The intent of the Chief Petty Officers Association is to strengthen the camaraderie within the Stuttgart Navy, military and civilian community by giving back through participation in charitable events, hosting fundraisers, and by providing personal and professional training to Sailors.
"We support organizations, conduct community service, and truly believe in mentoring, leading and training our junior troops," said Markeeta Y. Hardin, training and operations Lead Chief Petty Officer at U.S. European Command and Stuttgart CPOA president.
What is the importance of being a Navy Chief?
Chiefs, Senior Chiefs and Master Chiefs explain.
Chiefs always Lead from the front!  They focus on Mentoring and Making tomorrow Better.  – SCPO Ebony Summerbell
Foster the growth of future leaders, both enlisted and commissioned. – CPO Kurt Roller
The huge impact we have in molding our Junior Sailors to replace us one day is essential in keeping the Navy afloat. – CPO Ray Wiemer
Giving your time to bring others along and up, it's something you can never get back and only you can give it. – CPO Dru Maclin
Chiefs are the fountain of wisdom that Junior Sailors and Officers look to for answers.  We make everything happen from motivating, planning and executing plans. – SCPO Bill Worthen
A Chief by herself/himself will never succeed, however, we will always win as a team as our brothers and sisters rise together and become one.  Living up to the Chief Petty Officer Creed will make the difference in a superior command, or a malfunctioning command. "The Chief" will never tire, "The Chief" will always answer the call. – MCPO Joel Steinbach
_________________________

For more information on the CPOA in Stuttgart, contact DSN: 430-7311/9267 or civ. 0711-680-7311/9267 or visit their Facebook page, here.
[slideshow_deploy id='28579′]