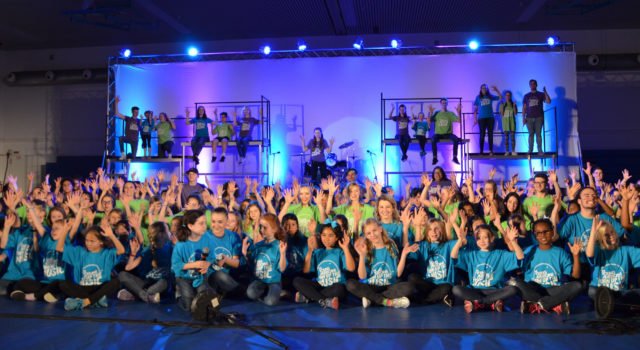 By Holly DeCarlo-White
USAG Stuttgart Public Affairs
The Young Americans returned to Stuttgart to teach a three-day performing arts workshop that concluded with a free, two-hour musical performance with Stuttgart military community youth on Patch Barracks., Nov. 5.
The group is a non-profit organization and college of the performing arts based in California that has worked with children around the world since 1992, including U.S. military youth in Japan and the United Kingdom.  More than 140 youths of U.S. Army Garrison Stuttgart, ages 7-18 years, participated in the intensive educational workshop that covered vocal techniques, dance, and comedy improvisation.
"We did everything –  acting, dancing, singing – the whole thing," said participant Hailey Harris, age 8.
This is the third consecutive year that Stuttgart's Child and Youth Services (CYS) has invited the international music outreach group to visit Stuttgart.
"It is not always that you get a chance to do something that makes a difference, and tonight was one of those nights," said Sam Thompson, instructional programs specialist, CYS SKIES.
"Nothing you do for a child is ever wasted," Thompson continued, quoting Helen Keller.
The Young Americans Europe cast of 38 college-age singers and dancers, including two former USAG Stuttgart students Alec Basgall and Chesney Walters, bonded with participants during rehearsals to help them identify strengths and overcome fears while working together.
"I think what we are experiencing here is to be free and happy, and have no fear about dancing on a stage," Harris said.
Stuttgart community members had an additional opportunity to bond with The Young Americans in their own homes as 18 host families volunteered to house the entire cast and crew over the weekend. Following the performance, the cast departed to their next destination.
Michael Heib, The Young Americans' general manager for Europe based in Bad Karlshafen, Germany, explained that with community support, The Young Americans have visited more than 1,000 cities over the years. Heib encouraged Stuttgart military community members to spread the word about the program as they move to new cities and bases throughout their careers.
"It does not happen every day to see our kids that happy. If you look in their eyes, you see the joy, the trust and a new gained self-esteem…what it means to them to discover all those abilities within themselves, bring out their creativity and overcome fear…this kind of experience stays with you for a lifetime," Heib said.
"This is so uplifting for our kids…This is resiliency!" said Joe Holder, School Liaison officer.
To watch the full Stuttgart military community youth performance, visit the video tab of the garrison Facebook page.
View the photo album.
View Stuttgart MWR's photo album.
For more information on The Young Americans, visit www.youngamericans.org.