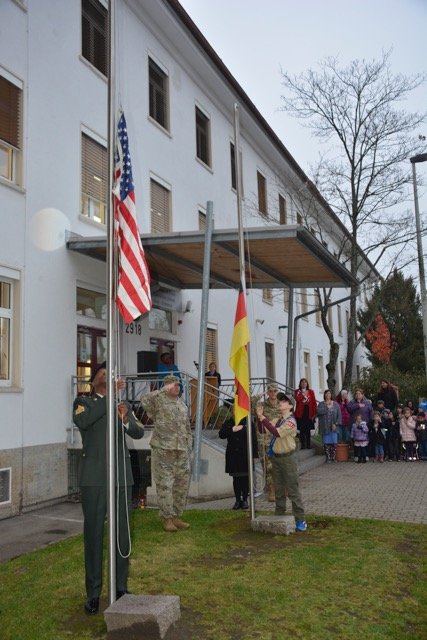 by John Reese
USAG Stuttgart Public Affairs
Hundreds of Patch Elementary School students formed up by grades on a chilly, gray morning on Panzer Kaserne to honor Stuttgart military community veterans, Nov. 7.
Hosted by Principal Beverly A. Erdmann, the assembly was led by event emcee and candidate for student council president Matthew Overholser, wearing his Boy Scout Troop 324 uniform. With a little assistance from current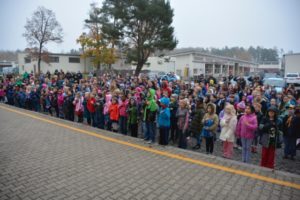 U.S. Army Garrison Stuttgart Headquarters and Headquarters Company 1st Sgt. Anthony Hopkins and retired 1st Sgt. James Terrell, wearing his Class A uniform from when he retired 22 years ago, raised the American flag as the student sang the National Anthem and recited the Pledge of Allegiance.
"Our school is named after Gen. Alexander Patch, a veteran of World War I and World War II, where he commanded troops in the Pacific Theater and then the 7th Army in Europe," Overholser said. "It is fitting that our school recognize our veterans."
Garrison commander Col. Neal Corson addressed the assembly, thanking the students and faculty for recognizing veterans in anticipation of Veterans Day, Nov. 11. The school held the ceremony in advance as Veterans Day falls on a Saturday this year. The federal holiday  Friday, Nov. 10, is a no-school day.
Overholser called upon the veterans in attendance to join him on the steps to the school's entrance to be acknowledged by the student body.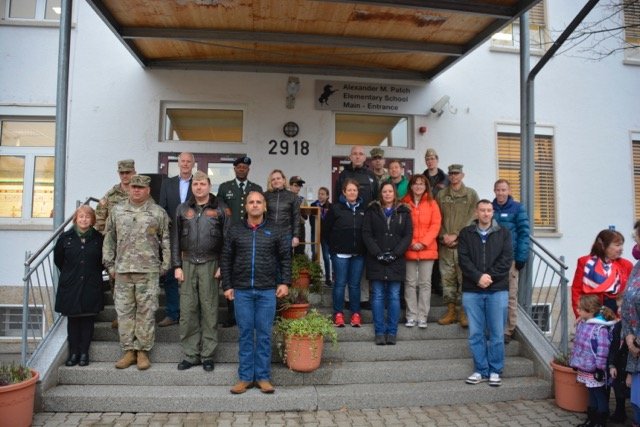 "The men and women standing before you made the decision to protect our country and are here, safe. Let us now remember those warriors who paid the ultimate sacrifice for our freedom with a moment of silence," Overholser said. As everyone in attendance bowed their heads as a sign of respect, the somber notes of Taps broke the silence.
Following the ceremony, the students returned to their classrooms and Erdmann invited all veterans in attendance to come out of the cold for warm refreshments.