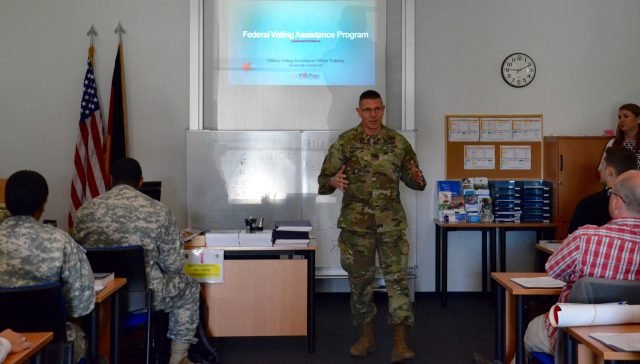 By USAG Stuttgart Voting Assistance Office
Every unit in the Stuttgart military community should have a person assigned to help personnel and their families vote overseas.
Voting Assistance Officers (VAO) help fellow service members and their families in registering and requesting absentee ballots so they can successfully exercise their right to vote from any place in the world. The training prepares VAOs to assist families in every unit.
VAOs are critical to the success of voting assistance programs. Their knowledge and effectiveness may very well determine whether a citizen understands how and when to participate in the election process.
VAOs are responsible for providing accurate, non-partisan voting information and assistance to U.S. citizens in the Stuttgart military community who want to exercise their right to vote.
Since many assigned VAOs are new to the job, the workshop provides the training to answer questions and make it easier to help individuals vote absentee overseas.
The workshop take is an interactive, hands-on training session with the participants asking questions and making comments as the workshop progresses while reviewing forms and other resources.  The workshops provides timely information about the absentee registration and voting process for Uniformed Service members and their families, and resources critical to preparing VAOs to effectively perform their duties in assisting citizens covered under the Uniformed and Overseas Citizens Absentee Voting Act.
The Federal Voting Assistance Program of the Department of Defense conducts Congressionally mandated Voting Assistance Officer Workshops oriented toward persons that provide voting assistance at U.S. Embassies and Consulates, Military installations and American Citizen Organizations overseas.
In addition to unit VAOs, community members in Stuttgart can also direct questions to the U.S. Army Garrison Stuttgart Voting Assistance Office at DSN: 431-2865; or email usarmy.stuttgart.imcom-europe.list.vote-stuttgart@mail.mil.