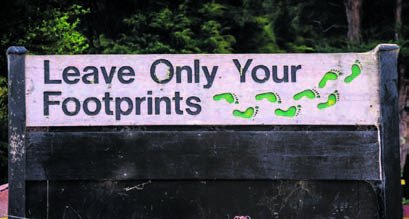 Compiled by USAG Stuttgart Public Affairs Office
If you have never experienced a barefoot park, Germany is a great place to discover one. Every week, thousands of visitors enjoy walking through barefoot parks to feel the natural ground and various materials with bare soles.
Walking barefoot on a variety of surfaces and temperatures is said to make people more aware of their environment, and offers some surprising health benefits like preventing athletes' foot, varicose veins, and even warding off the common cold. It's both an interesting and fun concept to try.
Within Baden-Württemberg, the Black Forest is a fantastic spot to test your senses at some of Europe's best barefoot parks.
Dornstetten's Barfußpark opens May 1
The 2.5 km barefoot walk takes visitors through forest and meadow to feel wood, stones, bark, grass, clay, water and other surfaces to stimulate and invigorate your feet.
The park is a popular destination for groups and families. The offers lockers for storing personal belongings and a washroom for rinsing off after the barefoot adventure.
There are barbecue areas that invite patrons to take a break throughout the day.
Entrance is free. The parking lot machine gives no change and does not accept credit cards, so don't forget to bring a few euros with you. The website advises a maximum of €4. The park itself has no specific address, so it is suggested in navigation systems to specify Silverwood Street.
For more information, visit www.barfusspark.info.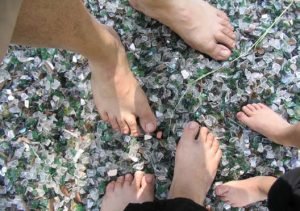 Park mit allen Sinnen or park with all senses
In Gutach im Schwarzwald (Black Forrest), the Park mit allen Sinnen comprises a 2.1 km barefoot trail with a 15 different natural surfaces, as well as unique calming sight, sound and smell experience stations.
The park is open 10 a.m. to 6 p.m., March, April, September and October and 10 a.m. to 7 p.m., May through August. Cost for children under is free, €3.80 and €5.50 for adults.
Visitors may see horses from the nearby stables which are available for pony rides if booked in advance. For prices and times, contact 078337285.
For more information, visit http://www.parkmitallensinnen.de/en/your-visit.
Note: Parks are not accessible to strollers or wheel chairs or pets.
Barfußpfad Creglingen: Region Hohenlohe Franken, Tauber-Valley
One of the most remarkable barefoot paths is located at the "Herrgottstal," God's Valley, in Creglingen near Rottenburg ob der Tauber.
The park invites the whole family to "feel with all senses." It has a vast recreational area, with the path, Kneipp basin – a very cold, calf high water pool, water playground and lake to keep visitors occupied all day.
The actual barefoot path is 800 meters long and is open to the public until October. The path winds through forest, meadows, along brooks and over soft and hard surfaces, which naturally massage the barefoot wanderer's feet.
Surfaces such as mulch beds, mud, sand, pebbles, plaster stones, slate plates, wood logs, and wooden slates keep the sensations unpredictable.
These different surfaces are almost continuous throughout the path. All along the way information stations answer questions visitors may have about this unusual journey.
Next to the water playground, visitors can discover a 90-meter foot-feel-trail, which is designed for visitors to maneuver through with their eyes closed and holding on to a rope.
Safety checks at the park are performed daily. A washroom is available. There is an entrance fee during summer, all other times, the entrance is free.
A list of other barefoot parks in Europe and more information can be found at: http://www.barfusspark.info/en/park.htm.