By Capt. Keenan Daniels
USAG Stuttgart Law Center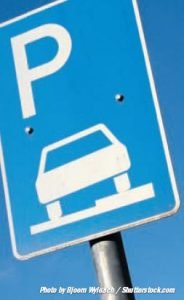 In Germany, you should not be surprised that your neighbor has, politely, taken a photo of your parked vehicle and, very kindly, made a complaint to the authorities. Typically, you will not find out that this has been done until a parking ticket shows up in your mailbox.
Driving in Germany can be an exhilarating experience. There are picturesque backroads, well maintained highways and, sometimes, no speed limits! However, if there's a dark-side to the idyllic driving situation, it is finding a place to stow your vehicle once the pleasure of driving is done. Germany has numerous rules drivers are expected to know when parking, and violations of these rules can get your vehicle ticketed or towed. This article explains the ins and outs (pun intended) of parking in Germany.
Under German law, a vehicle is considered parked when the driver leaves the vehicle or it is stopped for three minutes or longer. The safest way to legally park your vehicle is to use a parking garage. These are either above ground, a Parkhaus, or underground, a Tiefgarage. Not all of these garages are open 24/7, so it is important that you check the closing time before you leave your vehicle. Likewise, it is important to keep in mind that these garages have been designed for smaller European vehicles. Even if your vehicle fits within the garage's height limits, you may still have a difficult time maneuvering into a parking spot.
Parking on the street is another challenge. Some residential streets are reserved for cars that have the appropriate parking permit for that area. A parking voucher should ordinarily be purchased on any street with parking machines. Make sure that you look carefully because sometimes the machine may not be in plain view. The voucher must be prominently displayed on your dashboard. Sometimes the parking is free on the weekend, which is indicated by an additional sign. If you are like me and do not read German well, you can be cautious and simply pay every time, or look to see if other cars on the street have vouchers in the windshield.
There are some infractions that will get your car towed. Just like in the states, getting your car out of impound can be difficult and costly. You should never park on the street side of a parked vehicle, or double park.
Don't:
Park in front of an entrance or exit to a driveway;
Park in a bike lane;
Park in a manner that obstructs the use of other marked parking spaces;
Park on railroad tracks;
Park on the autobahn; or,
Park anywhere with restricted no stopping signs – blue circular sign with red lines crossed in the center.
If your vehicle gets towed, call the police to settle the situation.
If you do get a ticket, pay close attention to the dates. Normally, you will only have 14 days to file a protest. If you do not file a protest within 14 days, there is little chance of you avoiding the fine.
For a detailed explanation of German road signs refer to the Drivers Handbook and Examination Manual for Germany which can be found here: http://www.eur.army.mil/rmv/Documents_PDF/aep190-34.pdf.
This article is not meant to serve as legal advice, if you have specific question on this topic please contact the Stuttgart Law Center at DSN: 421-4152/civ. 0711-729-4152.