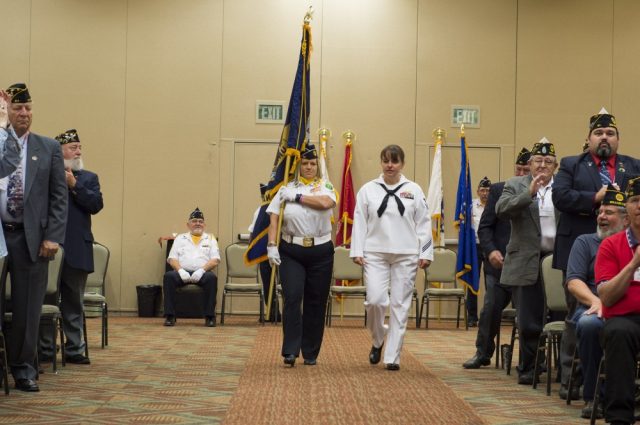 By Mass Communication Specialist 2nd Class Jacob G. Sisco, Navy Public Affairs Support Element Det. Northwest
Service members of the Navy, Army, Marine Corps, Air Force and Coast Guard were awarded the 4th Annual American Legion Department of Washington Spirit of Service Award (SOSA) in Centralia, Washington, July 15.
To qualify for the SOSA an individual must be an outstanding military professional and be actively involved in volunteer projects within their community during off-duty hours. It is awarded to enlisted personnel of rank E-6 and below.
Each of the respective services nominated their own service member to be awarded the SOSA. The American Legion has no involvement in the choosing of the recipient.
This year's SOSA award recipients are Army Staff Sgt. Sheldon Boyajean, an Illinois native, assigned as Operations Sergeant for Headquarters Detachment 504th Military Police Battalion at JBLM; Marine Corps Sgt. Susana Montano, a Texas native, assigned as the Battalion Cyber Chief; Yeoman 1st Class Brenda Belcher, a Washington native, assigned to AFRICOM in Stuttgart, Germany; Air Force Tech Sgt. Danita Welch, a Wisconsin native, assigned as a Health Serviced manager for the 62nd Medical Squadron at Joint Base Lewis-McChord; and Coast Guard Yeoman 1st Class Jaimee Baker, a New York native, assigned to the Personnel Support Division at Coast Guard Base Seattle.
Each service member was escorted down the aisle with their services' flag, while the departments' legion band performed that service member's anthem or hymn.
"It feels overwhelming to see the service members here," said retired Coast Guard Master Chief Jake Cabuag, the SOSA Commission Chairman. "When I see the recipients grouped together and talking, it feels good."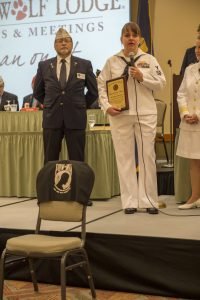 "Getting this award means so much to me", said Boyajean. "I appreciate the American Legion for everything that I have done, and thank you to my command team."
"It is an honor getting recognized for my service and for the stuff I do for the community," said Monano. "It is a really great honor to be recognized by the American Legion and to be presented with this award in front of so many people. I would just like to thank everybody for it."
United States Africa Command flew Belcher to Centralia from Germany to be able to participate in the ceremony.
"It means a lot," said Belcher. "I am very moved by the fact that my command put me in for this award. I had no idea that they put me in for this award. Being deployed to Germany, I was just busy taking care of business, and when I found out that I won the award; I was very moved. I know there are so many people out there that deserve this award and it is humbling to me to be able to receive it."
"It is basically the epitome of getting to follow my passion," said Baker. "Thank you, American Legion."
"I think it is inspiring that the American Legion hasn't forgotten to recognize our men and women in the service for the things that they do above and beyond their traditional career," said Cmdr. Annette Washburn, the executive officer of Navy Reserve U.S. Pacific Command Det. 501. "And to see the awardees like YN1 Belcher, it is inspiring to me to see that she is willing to go above and beyond to help people that she doesn't even know. I feel like sometimes that is lost in our world. So it is a good reminder to myself, and to the rest of the world, that we need to take care of each other and volunteer to help one another out, and I couldn't be more proud."
According to Cabuag, the American Legion is the nation's largest organization of wartime veterans with a current membership of 2.3 million wartime veterans nationwide, and over 30,000 in Washington. Legionnaires work for the betterment of their communities through more than 14,000 posts across the nation.