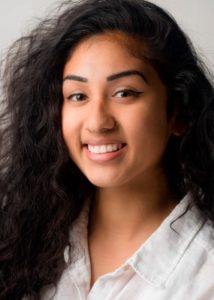 By Holly DeCarlo-White
USAG Stuttgart Public Affairs
U.S. Army Garrison Stuttgart's Child, Youth, and School Services, Patch Youth Center named Tatiana Alvarez as Stuttgart's Military Youth of the Year (MYOY).
Alvarez will move on to represent Stuttgart at the region level for the 2016-17 Europe-wide competition, which will be held in Stuttgart at the Swabian Special Events Center on Patch Barracks on March 24.
"The local Youth of the Year serves as a role model for other young people in the Youth Center and as a representative to the community," said Barbara Carroll, facility director of Patch Youth Center, "The Hub. "The application packet for MYOY is not easy, we started this year with seven youth and eventually only two completed the packet — Tatiana Alvarez and Kiara Ali."
Carroll explained the stringent process of the MYOY application which includes essays on "My Vision for America's Youth," "My Personal Brand," "Military Youth Experience," and "My Club Experience." Teens must answer a questionnaire that delves into volunteer work, leadership, academic excellence, and what they would do as the national winner and representative of Boys and Girls Club of America (BGCA) and youth centers worldwide.
After completing all aspects of the application stage by the required submission deadline, teens competed in an in-person board interview where they were judged on public speaking, interview skills, and overall application quality.
"Of the two fantastic candidates, Tatiana was selected to be Stuttgart's Military Youth of the Year," said Carroll.
Tatiana Alvarez is a part of multiple organizations within the local Stuttgart military community, both at the Patch Youth Center "The Hub", and in school. At The Hub, Alvarez is a member of the community service focused Keystone Club that builds on leader development. At Stuttgart High School, she is a member of the National Honor Society, Spanish National Honor Society, and takes part in committees such as Prom and Homecoming. She also participates in Friends Helping Friends, a program that matches students with special needs students for assistance. In her previous duty station, Alvarez volunteered with Club Beyond among other community service projects.
Alvarez aspires to be an Occupational Therapist and would like to attend Texas A&M after graduation. She recently completed a Certified Nursing Assistant (CAN) internship in a nursing home, also working with special needs children.
In her essay, her personal "brand" was described as being centered on service to others, "It is not about how much you give to others, but how much love and effort was put into it," Alvarez wrote.
Military Youth of the Year is a program delivered in partnership with BGCA and military youth centers worldwide. This year, BGCA partnered with Disney and Toyota to provide scholarships for the winners of the State, Regional, and National levels of competition. A $5,000 scholarship will be awarded to the winner in March at the regional level competition.
Every year, each garrison submits a Military Youth of the Year nominee, which can be from any branch of service. The competition goes from garrison to region, region to state/overseas, and finally from state to the national level. To earn the Military Youth of the Year honor, nominees must demonstrate how they have achieved academic success and made outstanding contributions to their community, their school, and their local youth center while overcoming personal obstacles. Only one Youth of the Year from each Youth Center may advance to the next level.
About Youth of the Year Program
Since 1947, Youth of the Year has been Boys & Girls Clubs of America's premier recognition program, celebrating the extraordinary achievements of Club and Youth Center members. Each year, one exceptional member is selected to be the National Youth of the Year. The National Youth of the Year serves as both an exemplary ambassador for Boys & Girls Club youth and as a strong voice for all of our nation's young people. The journey to being named National Youth of the Year begins locally and progresses to the state, regional and national levels. To achieve the title of Youth of the Year on any level, Club/Youth Center members must embody the values of leadership and service; academic excellence; and healthy lifestyles. They should exemplify the critical impact that Boys & Girls Clubs have on the lives of young people.
Correction Feb. 15: It was originally reported that a $10,000 scholarship will be awarded to the winner in March at the regional level competition. The actual scholarship award amount is $5,000.