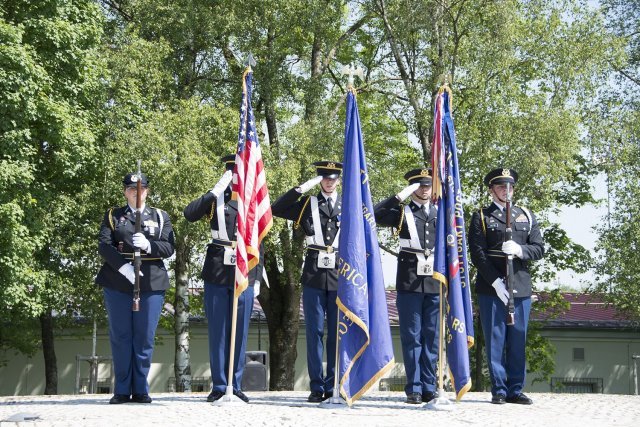 Story and photos by Kevin S. Abel
USAG Stuttgart Public Affairs
During a Memorial Day ceremony at Washington Square on Patch Barracks May 29, the Stuttgart Military Community paid respect and honor to those who lost their lives in the line of duty.
The presence of the uniformed members of United States Africa Command (AFRICOM), Veterans of Foreign Wars (VFW) Post 10810, American Legion Post 6 and the Stuttgart High School Junior Reserve Officer Training Corps (JROTC) helped show the diversity of this unified community and the level of respect it has for its fallen warriors.
"We commemorate Memorial Day to honor those service members who have made the ultimate sacrifice for our country," said Sgt. Tyler J. Johnson, AFRICOM and American Legion Post 6 commander, who served as master of ceremonies.
"It is an honor to join you today as we remember those Americans from every generation who have made the ultimate sacrifice," said guest speaker Rear Adm. Frank D. Whitworth, AFRICOM Director of Intelligence. "Today we also honor the sacrifices made by our partners and allies who fought across the European theater and continue to stand shoulder to shoulder with us."
"We're thankful for the service and sacrifice of our family members who have made it, or make it possible for their loved ones in uniform to serve," Whitworth said.
"Memorial Day is an occasion when we respectfully remember those who fought and died, whose lives were painfully cut short. Memorial Day, also an occasion we celebrate the security and freedom we enjoy," Whitworth said.  "We remember just how fortunate we are as Americans because of those who have gone before us and the men and women who step forward and serve now."
Whitworth added that there are so many profiles of courage that could be discussed and episodes in history that steal the soul and bring pride and motivation. He reflected on the sacrifice by Chief Warrant Officer Douglas Vose III, who died from wounds received while conducting combat operations in the Kabul Province of Afghanistan on July 29, 2009 while serving as the Assistant Detachment Commander of Special Forces Operational Detachment Alpha 0114, Alpha Company, 1st Battalion, 10th Special Forces Group (Airborne).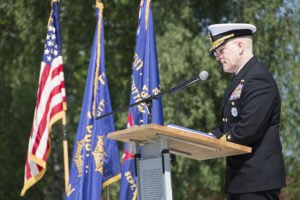 For some, this will be one of many Memorial Day ceremonies they will participate in during their time in the community, but for one it was his last.
"While this may be my last Memorial Day ceremony in Stuttgart, what we have done as a community will continue to lead on," said Col. Glenn K. Dickenson, Stuttgart Garrison Commander.  "As a community we will continue to honor the fallen, and the great sacrifice they gave for us to live in a free nation."
The day originally known as "Decoration Day" gradually changed to "Memorial Day," which was first used in 1882 when flowers were placed on the graves of Union and Confederate soldiers at Arlington National Cemetery. After World War I it was known as a day of remembrance for all Americans who died fighting in any war.
Memorial Day did not become the more common name until after World War II, and was not declared the official name by Federal law until 1967. In 1971 Congress declared the last Monday in May as the federal Memorial Day holiday.
To honor the fallen, wreaths were presented by representatives of AFRICOM, American Legion Post 6, VFW Post 10801, Association of the U.S. Army and Stuttgart Clan of Motorcycle Enthusiasts.
After the bugler played Taps, the benediction presented by Chaplain (Maj.) Lucilio Mizerani, and the SHS JROTC retired the colors, Johnson closed the ceremony with a sobering thought about the day's true meaning.
Today is not a holiday, it's a day of remembrance. If you want to know the true meaning of Memorial Day, visit Arlington Cemetery.