By Carola Meuse
U.S. Army Garrison Public Affairs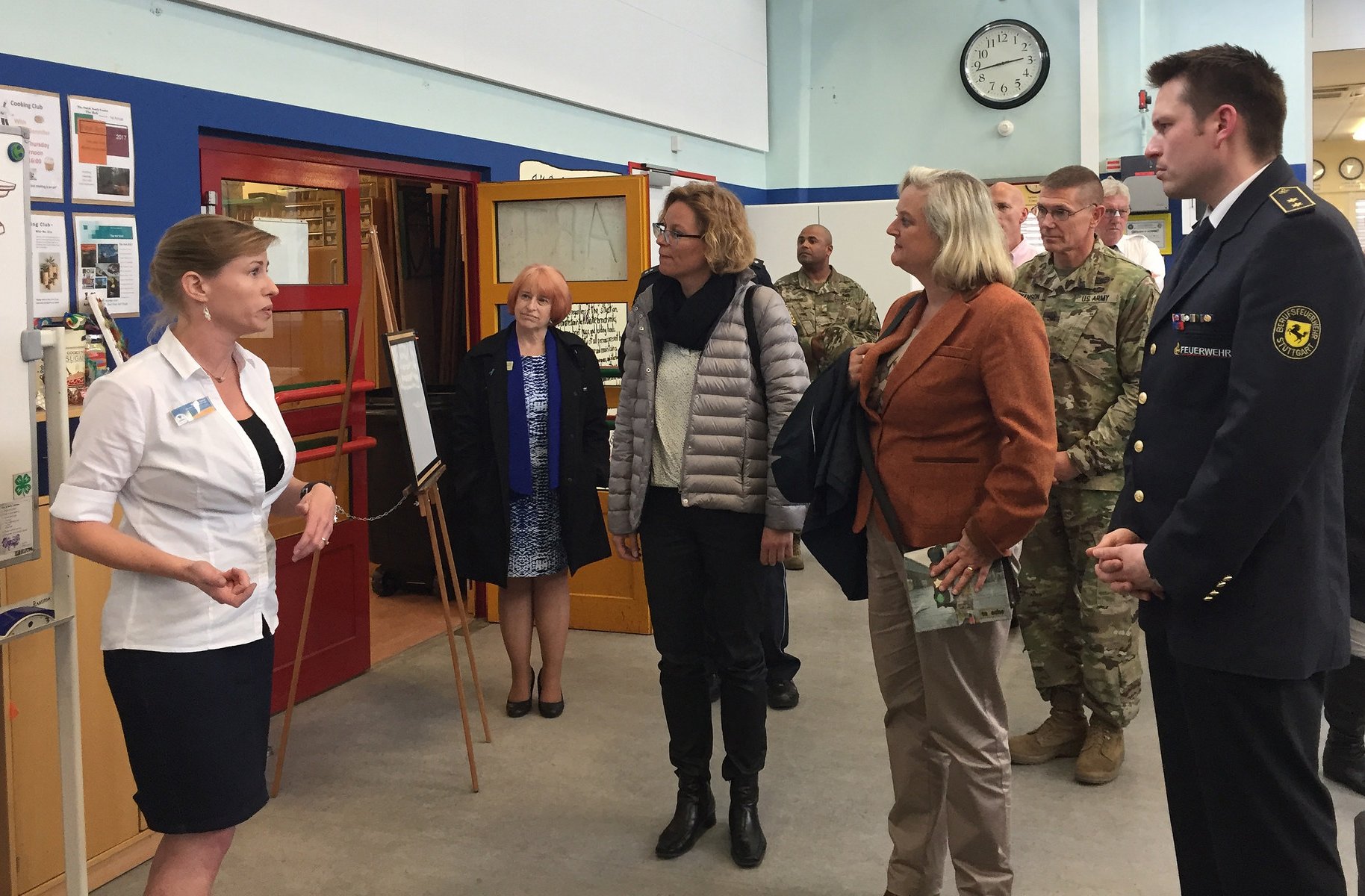 Between April 27 and May 18, the U.S. Army Garrison Stuttgart command team hosted five interactive outreach events with host nation representatives from neighboring communities.
With its five military installations and the Stuttgart Golf Course, USAG Stuttgart borders on the following 13 cities and communities in the greater Stuttgart metropolitan area: Böblingen, Schönaich, Sindelfingen, Leinfelden-Echterdingen, Filderstadt, Korwestheim, Stuttgart and its districts Vaihingen, Möhringen, Plieningen, Birkach, Bad Cannstatt and Zuffenhausen.
Lord Mayors, Mayors, District Mayors and first responders (Polizei and fire departments) from the respective neighboring communities were invited to four Mayors' Forums to gain a better understanding about USAG Stuttgart installations and services, which are provided to more than 23,000 military community members.
Mayors' Forums were held on the Stuttgart Army Airfield, Kelley and Patch Barracks, Robinson Barracks/Stuttgart Golf Course, and on Panzer Kaserne. During each session, Col. Glenn K. Dickenson, garrison commander, provided host nation dignitaries with a command briefing, explaining the garrison's unique role in serving all branches of service and providing support to two combatant commands, U.S. European Command and U.S. Africa Command. Dickenson also provided an open forum to address any concerns or discuss ways to improve current working relationships with host nation partners. Many garrison directorates such as the Directorate of Public Works, Family, Morale, Welfare and Recreation, and the Directorate of Emergency Services were represented to share information and best practices with their German counterparts.
"These events provided the perfect opportunity to continue to build our strong relationship with our great German allies and partners.  Together we are strong and can overcome any challenge," Dickenson said.
For host nation attendees, the events provided an opportunity to meet and interact with garrison personnel, tour the installation located in their respective city, or district, and delve into some of the programs provided to military community members.
Mikaela Wessels, vice district mayor of Plieningen-Birkach and Marie-Ann Heymann, vice district mayor of Möhringen, were impressed with the garrison's Child and Youth Services programs while touring the high school activities room at the Patch Youth Center (Hub). Both shared their desire to implement some of the programs in their youth centers in Plieningen-Birkach and Möhringen.
Following the Mayors' Forums, the garrison's S-3/5/7 (Directorate of Plans, Training, Mobilization and Security and Plans Analysis and Integration) hosted a Force Protection Seminar May 18, for host nation first and emergency responders, which included Polizei and fire departments, the Federal Agency for Technical Relief, emergency doctors, German Red Cross, and the Military State Command Baden-Württemberg, to learn about responsibilities and shared efforts when it comes to incidents on the military installation.
The U.S. Forces Liaison Office Baden-Württemberg also participated in the event and briefed host nation representatives on its mission along with the Directorate of Emergency Services and the Stuttgart Health Clinic.
The seminar was part of the garrison's annual training program involving emergency personnel from the cities of Stuttgart, Böblingen, Kornwestheim, Ludwigsburg, Reutlingen, and Sindelfingen. U.S. and German emergency personnel will test their emergency response during the garrison's full scale force protection exercise Stallion Shake in September.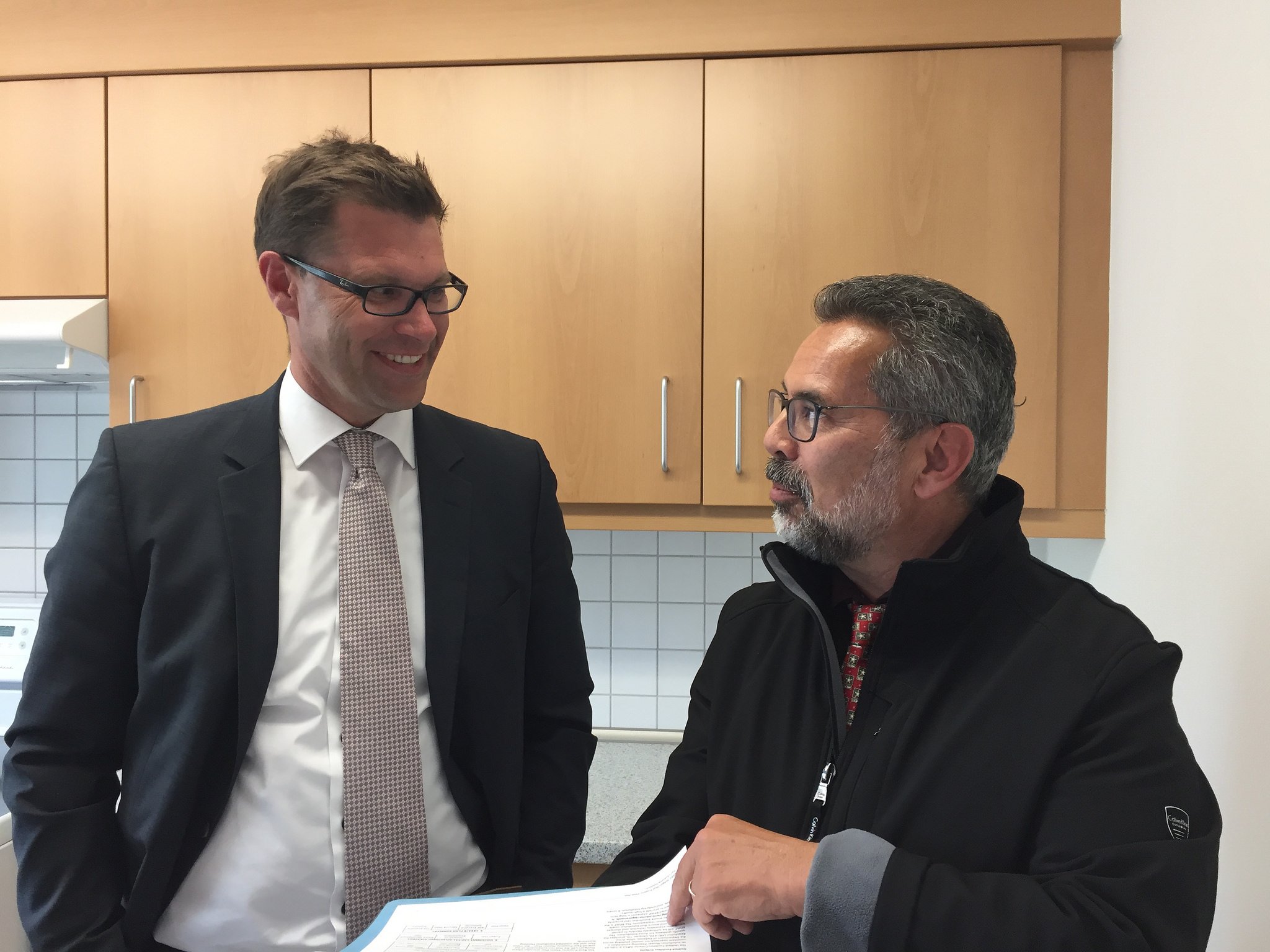 According to William Crane, S-3/5/7 director, the Force Protection Seminar was designed to build stronger relationships with host nation emergency response partners.
"These annual Force Protection Seminars with our German police, fire, and emergency services are incredibly valuable to ensure smooth operations between U.S. and German emergency providers in times of crisis on our installations, and in the surrounding areas," Crane said.