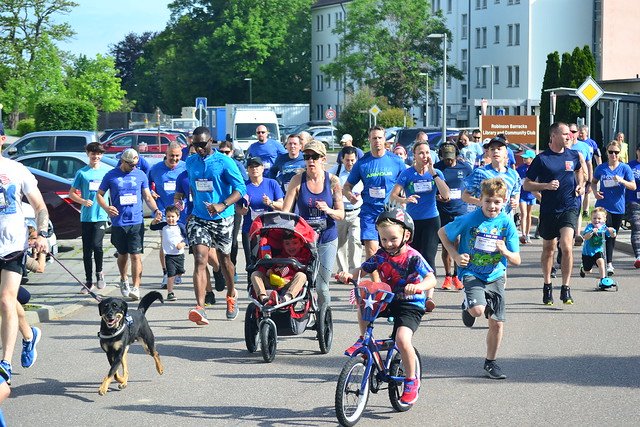 Story and photos by Sabrina Wilson
Robinson Barracks 
Robinson Barracks hosted its second "Wear Blue: Run to Remember" on Memorial day, May 27.
[slideshow_deploy id='45311′]
The run was organized by RB Zentrum volunteer and community member Angie McLaughlin with the help of RBZ and RB community volunteers. The event was supported by the RB Chapel, which provided hot dogs, chips and drinks after the race.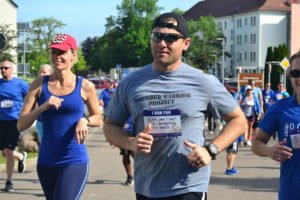 The race was a stroller, pet and bike friendly 5k. According to its website, "Wear Blue: Run to Remember is a national nonprofit running community that honors  the service and sacrifice of the American military.  Wear blue: run to remember creates a support network for military members and their families; it bridges the gap between military and civilian communities and it creates a living memorial for our country's fallen military members."
"This run means so much to us, it ensures that every soldiers name is not forgotten. As we meet in a circle of remembrance, we pause in silence and think about the sacrifices that were made, then we call out names of our fallen heroes," McLaughlin said. "Honoring them, but also never forgetting them."
Stuttgart Community member Krystle Mize is also working to make this something we can recognize throughout the year with runs around Patch. The second Saturday of every month there will be a meetup, with the first one taking place at 9 a.m., June 8,  at Patch Fitness Center. For more information, please see their facebook page, wear blue: run to remember – Stuttgart, Germany community.