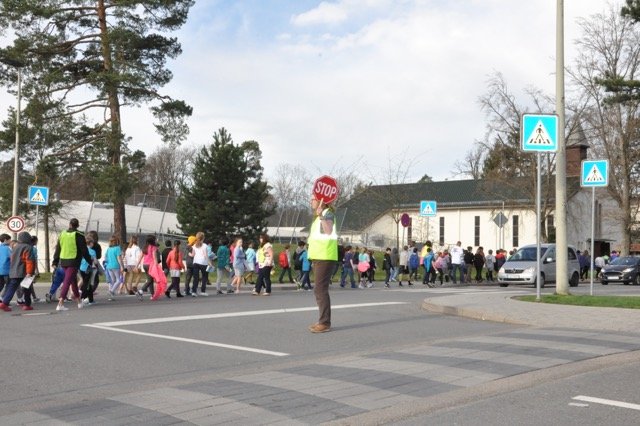 by John Reese
USAG Stuttgart Public Affairs
The student body of Stuttgart Elementary School got a break from classes to participate in a semi-annual evacuation drill, April 12.
At 9 a.m. sharp, school doors opened and two streams of children merged into one long river of students, flowing through the tunnel under Panzer Strasse, across streets and into their designated assembly point on Panzer Kaserne. The hundreds of children moved in an orderly fashion, taking the drill seriously yet happy to enjoy the mild, sunny morning's walk. The assembly point was about a quarter of a mile from their classrooms.

The object of the drill is to keep the children and staff safe, said Joe Holder, school liaison officer.
"We have to practice these at least twice per year," Holder said.  "Today's drill involves just the elementary school, but in real life, both schools (Stuttgart High School is adjacent to SES) would evacuate at the same time."
Drills such as this one are practiced for any contingency that may require evacuating the school.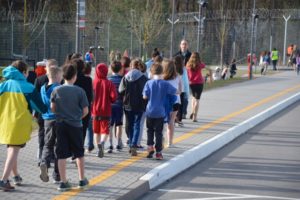 As part of the drill, teachers leading their classes carried boxes of books, attendance records and other necessary items some students required, such as medicines. Other teachers and some administrative staff donned bright reflective safety vests to shepherd the children toward their endpoint.
Armed with a walkie-talkie and a crossing guard's stop sign, Principal Sonja Rodriguez, SES, brought up the rear of line.
"Okay, our students cleared the school and were all in the tunnel by 9:08 a.m., eight minutes after we started the drill" she said, checking her watch after receiving a radioed message confirming all of the children had left campus and were at or on their way to the assembly point. "The next step is to account for everyone; once we account for everyone, we are on our way back to school."