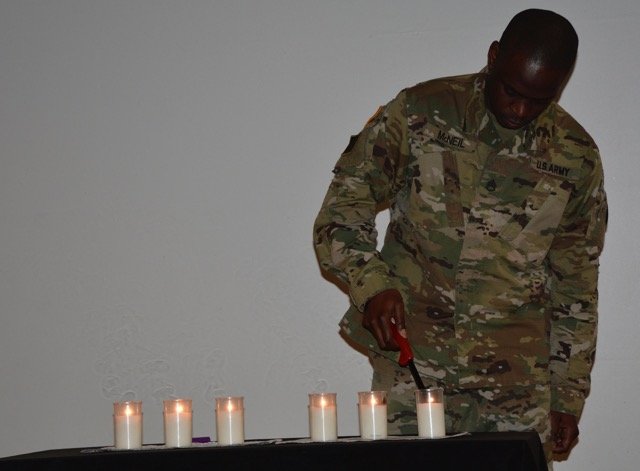 by John Reese
USAG Stuttgart Public Affairs
A solemn observance that included an educational display, a brief historical presentation about the Holocaust and a candle lighting ceremony was held in the Kelley Theater, Kelley Barracks, April 12. The theme for 2018 was "Learning from the Holocaust: Legacy of Perseverance."
"The U.S. Congress established Days of Remembrance as the nation's annual commemoration of the Holocaust," said program emcee Air Force Master Sgt. Tara Zbikowski, Special Operations Command Africa, as she introduced the program.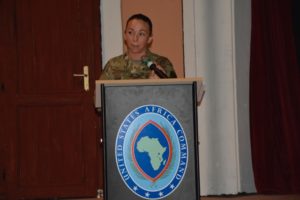 The observance, held for community members by U.S. Africa Command and U.S. Army Garrison Stuttgart, was to commemorate Holocaust Remembrance Day, explained Sgt. 1st Class Deonda M. Clarke, AFRICOM Equal Opportunity.
"Today is actually Holocaust Remembrance Day, the official day of the Week of Remembrance," Clarke said. "It started on Sunday, April 8, and it ends next Sunday on the 15th. Today is the day Congress selected to be the actual observance day."
The Army, together with the other services represented in the Stuttgart military community, annually commemorates the victims and survivors of the Holocaust. Additionally, as part of this year's program, a looping slide presentation told the story of Army medic Cpl. Anthony Acevedo, the first Mexican-American to be registered in the U.S. Holocaust Memorial Museum's database. Acevedo was captured during the Battle of the Bulge and held at a sub-camp of the notorious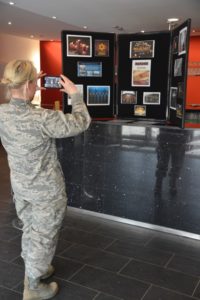 Buchenwald concentration camp. Out of 350 American Soldiers, only about 180, including Acevedo, survived. The young corporal kept a diary of what he witnessed and the plans he and his fellow prisoners held for the future to retain his will to live under the inhuman circumstances.
"Having the opportunity to come to the Holocaust remembrance is significantly important, especially for what we do here at AFRICOM," said Air Force Maj. Wendi Sazama, AFRICOM. "The injustice that occurred at the Holocaust is something that in these Days of Remembrance, an injustice that we can and should work to prevent, not just in Africa, but worldwide."
(Read more about the Holocaust and Acevedo at www.ushmm.org/.)