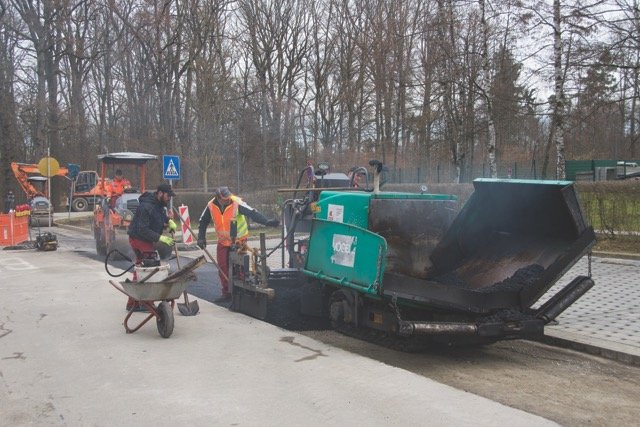 Story by Larry Reilly
USAG Stuttgart Public Affairs
It seems a day does not go by that somewhere on Kelley Barracks construction is being done on or along the streets and in turn presenting navigational challenges for all drivers.
The culprit of that navigating challenge has been the repair of the underground sewage system throughout the installation, which started in 2016 and is about 50 percent complete.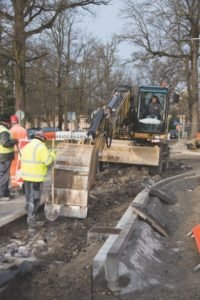 Unfortunately, that project and its challenges will continue through 2018 and into 2019 before it is completed.
Although 2017 saw construction projects that yielded the opening of the a new Subway store and the renovation of the German Kantine, construction projects during the next couple of years will focus more on barracks and office building type projects.
"The total renovation project for Barracks Bldg. 3310 will continue this year and extend into 2019. The construction project to replace the roof and the exterior as well as repair offices in Bldg. 3319 will start next year," said Bill Rossignol, USAG-Stuttgart, DPW, chief engineering. "We hope to complete the construction of the elevator and removal of the old boiler room in Bldg. 3312 prior to building the ADA ramp into that building before year's end."
Other projects ongoing at Kelley this year include various Kelley Fitness Center projects which include installation of air conditioning, fire alarm and sprinkler system and various minor upgrades from fans to painting to minor electrical repairs. Bldg. 3320 is scheduled to have some roof work done prior to the installation of solar panels.
A refresh to the working area of the Stuttgart Law Office is in the works and will be a warm welcome to the Stuttgart legal team that has endured some tough and noisy working conditions as the construction of the elevator and other facility repairs have been ongoing in Bldg. 3312 throughout the year.
The next couple of years will see continued construction projects on Kelley Barracks to various installation facilities and its roadways.
"Projects in the design phase for Kelley include the design for energy efficiency upgrades to a number of buildings on the installation, the road extension to the Access Control Point and the overall roadway, sidewalks and green area design," said Rossignol. "Driving around and finding parking spaces on the installation may continue to be challenging during the next year or so; however, over the long run, Kelley Barracks will be a great place to work and live."