By USAG Stuttgart Public Affairs
December 11 marks the 70th anniversary of Robinson Barracks' namesake receiving the Medal of Honor.
To commemorate Army 1st Lt. James E. Robinson Jr., U.S. Army Garrison's Directorate of Public Works installed a monument near building 159 and 167 on the installation to honor the soldier's ultimate sacrifice.
Robinson was posthum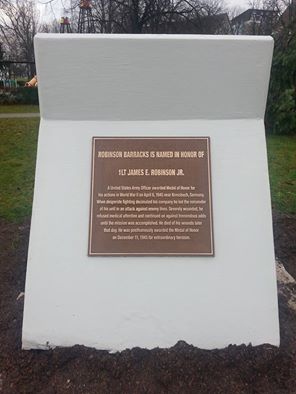 ously awarded the Medal of Honor for his actions as a field artillery observer on April 6, 1945, while  attached to Company A, 253rd Infantry, in Untergriesheim, Germany, during World War II. According to the medal citation, after eight hours of fighting which took the life of the company's commanding officer and most of its key enlisted personnel, Robinson rallied the remaining troops and led them through intense fire in a charge against the objective.
"In the advance he was seriously wounded in the throat by a shell fragment, but, despite great pain and loss of blood, he refused medical attention and continued the attack, directing supporting artillery fire even though he was mortally wounded. Only after the town had been taken and he could no longer speak did he leave the command he had inspired in victory and walk nearly 2 miles to an aid station where he died from his wound. By his intrepid leadership 1st Lt. Robinson was directly responsible for Company A's accomplishing its mission against tremendous odds," the citation states.
Robinson was born in Toledo, Ohio, and is buried at the Fort Sam Houston National Cemetery in San Antonio.