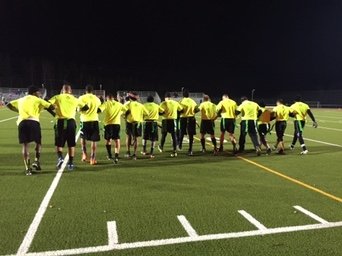 U.S. Army Garrison Stuttgart's Army Flag Football Team imposed it's will by any means necessary, and put a fork in the Stuttgart Navy Flag Football Team as they beat Navy with a final score 21-6. Soldiers took on Sailors and Marines in Stuttgart's own official Army-Navy flag football game, Dec. 4, 2015 at Stuttgart High School's football field.
Two defensive goal line stands in the last six minutes of the game sealed the win for the Army team. The fans braved the cold air as it dipped into the high 30's as the evening progressed. The 40-50 fans in attendance still were loud and motivated as they cheered on the teams to the final horn. The players were awarded 1st and 2nd place medallions, and Head Coach, Sgt. Brown from USAG Directorate of Emergency Services raised the "Wood Football Trophy" for the Army Team for the first time in three years.
The official 2015 Army-Navy football game is scheduled to be held Dec. 12 in Philadelphia and will be broadcast on American Forces Network Europe, AFN Sports channel, check local listing for times.
To view the photo album, click here.