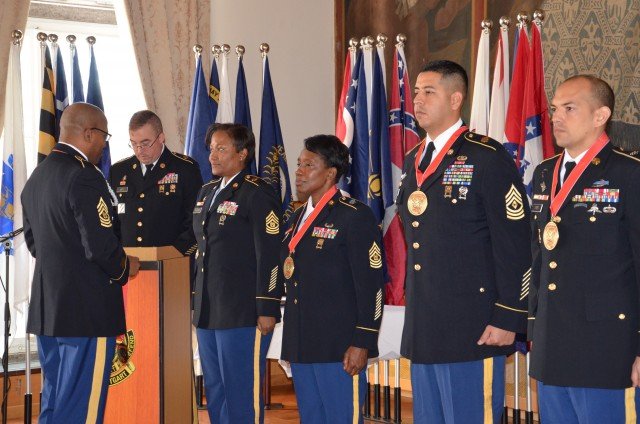 By USAG Stuttgart Public Affairs Office
U.S. Army Garrison Stuttgart welcomed four enlisted leaders into the prestigious Sergeant Morales Club during an inaugural ceremony for the Stuttgart Chapter, Dec. 8 at the Panzer Community Club.
Inductees Command Sgt. Maj. Lynice Thorpe, and Headquarters and Headquarters Company 1st Sgt. Amador Aguillen Jr. of USAG Stuttgart, Commandant Command Sgt. Maj. Gloria R. Jones of U.S. European Command Headquarters, and Master Sgt. Christopher A. Green of Special Operations Command Europe received the Sergeant Morales Club medallion during the ceremony.
Command Sgt. Maj. Romeo Montez of U.S. Army Installation Management Command Europe added powerful remarks on the importance of Army Values and leadership, demonstrated by those inducted in ceremony.
"When you think about leadership, the art of influencing and directing men and women in such a way as to obtain their willing obedience, confidential respect and loyal cooperation, there is nothing greater than the principals of leadership and none higher than leading by example." Montez said during his remarks.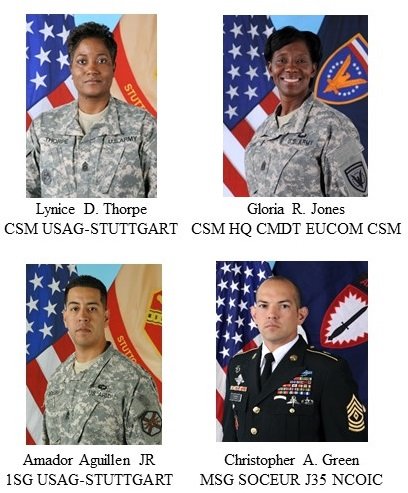 The inductees demonstrated knowledge of a wide range of Soldier skills, Army programs, activities and community service. Each member acted as a steward to the Army profession by helping to better the military life for service members and families of all services in Stuttgart. They rejuvenated Army programs, and created mentorship programs for lower enlisted, as well as High School students.
The inductees are considered to represent the top 1% of the Army, sacrificing their personal time to teach train and mentor anyone regardless of their unit or branch of service. They lead from the front and remain committed and dedicated to the enhancement of Esprit De Corps.
About the Sergeant Morales Club
The Sergeant Morales Club was established in 1973 by Lt. Gen. George S. Blanchard to promote the highest ideals of integrity, professionalism and leadership for the enlisted force serving in Europe.
The organization embraces the same attributes as the U.S. Army's Sergeant Audie Murphy Club. Membership is exclusive and gained through a rigorous and competitive selection process.
SMC membership recognizes and rewards distinguished non-commissioned officers whose leadership achievements merit special recognition and who have contributed significantly to developing a professional NCO Corps and a combat effective Army.
SMC members exemplify a special kind of leadership characterized by a personal concern for the needs, training, development, and welfare of Soldiers.
For more information about the Sergeant Morales Club, visit www.mihalko-family.com/Sergeant-Morales-Club.htm.
To view the photo album, click here.