Story and photo by Kevin S. Abel
USAG Stuttgart Public Affairs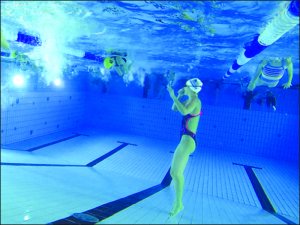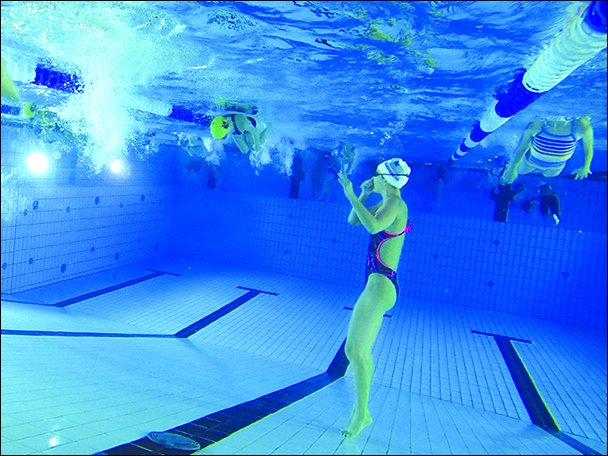 Team USA Olympic swimmers Kim Vandenberg and Rebecca Soni, visited Sindelfingen on Sunday, Sept. 10, for a swim clinic to help Stuttgart Piranhas improve their swimming strokes.
The clinic featured two sessions that would allow the Olympians to teach in a small group setting, maximizing the time spent with each swimmer.
For Soni, this would be the first visit to teach at the clinic while it was Vandenberg's third.  "It's fun to come back and hear the kids tell me about getting their best time or improvements in the sport," said Vandenberg.  "It's fun to see familiar faces and be around their positive energy."
During the clinic the Olympians focused on their favorite drills that helped them throughout their careers to become faster swimmers leading them to Olympic medals.
"It's a big motivation for our younger swimmers to meet the Olympians, and be able to learn from them, it's a great opportunity." said Andrea Symak, head coach, Stuttgart Piranhas. "It's not only a learning experience for our swimmers but our coaches as well."
Two time Olympian Soni is a former world record holder in the 200-meter breaststroke and 400-meter medley relay, set in the 2012 London Olympic Games, where she also took silver in the 100-meter.
Vandenberg who is a butterfly swimmer, was a member of the bronze-medal-winning U.S. team in the women's 4×200-meter freestyle relay at the 2008 Summer Olympics in Beijing.
The afternoon started with the younger swimmers getting their chance in the pool and two hours of training to help improve the foundations of the breaststroke and butterfly, followed by the teens.
The clinic was focused on drills that helped Soni and Vandenberg throughout their career to become faster starting with basic drills that led into more advanced techniques.
The later training session allowed the seasoned swimmers to take a moment to get to know the Olympians and their training regiments.
The Stuttgart Piranhas is an international youth swim team open to swimmers in the Stuttgart area, representing the United States and the Stuttgart Community. The team is part of the European Forces Swim League, competing in swim meets around Europe including Germany, Italy, Netherlands and Belgium.