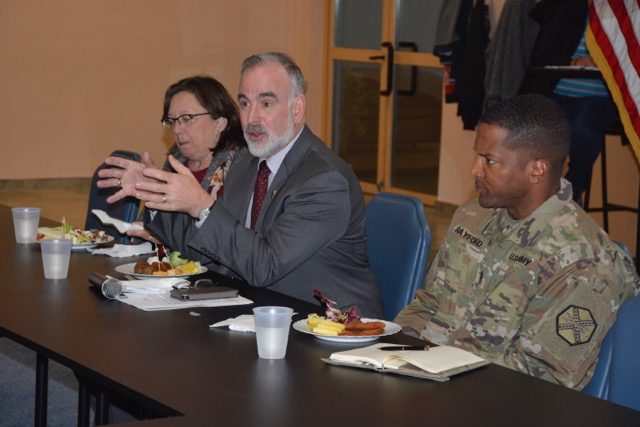 By John Reese
USAG Stuttgart Public Affairs
Local national employees of the U.S. Army Garrison Stuttgart broke bread during a working luncheon with Installation Management Command-Europe Director Michael Formica, Oct. 2, at the Patch Community Club on Patch Barracks.
"For you, as a garrison, Stuttgart is a very important location for the United States," Formica told the attendees, noting the garrison is home to two combatant commands.
Formica shared the most important goals for IMCOM: improve hiring to fill empty seats in offices, singling out the hard-working Directorate of Resource Management for the work they endured to finish out fiscal year 2017, adding "Happy New Year" in recognition of FY 2018.
"You're doing great work, but we want those chairs filled," Formica said.
He cited a recent emergency situation in the Benelux following a terrorist attack in Brussels as an example of a garrison running nonstop operations for a month. The effort was exhausting on that garrison team, and now steps are being taken to bring in additional personnel from other garrisons to maintain services should a similar situation occur in Stuttgart or elsewhere.
Another important goal is to maintain communications in the event of "cyber-zero," meaning a communications and power breakdown that impacts critical functions as witnessed in the three recent hurricanes in the U.S. Part of being cyber-zero is going back to older ways of communicating, like using radios when emails and cell phones are down.
"We've seen in natural disasters in the U.S., you lose all; you lose (communications and power) when Harvey takes out Houston, or Maria takes out Puerto Rico," he said. "But what you must have is calm, competent, reassuring leadership."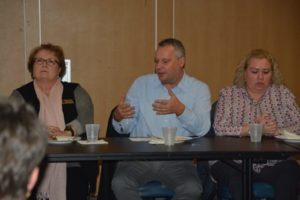 Formica also spoke about how he's trying to attain the necessary resources for Stuttgart and IMCOM Europe.
The employees had the opportunity to ask questions about how they can improve garrison services while overcoming obstacles such as training, staffing and more. Representatives from key garrison directorates asked challenging questions that Formica and Command Sgt. Maj. Ulysses Rayford said they would have answers for when they visit again in a few months.