Family Advocacy Program
USAG Stuttgart Army Community Service
From deployments to new schools, military children are faced with unique challenges that non-military children their age never experience. Their ability to adapt to changes deserve respect and admiration.
April is the Month of the Military Child. USAG Stuttgart's Family & Morale, Welfare and Recreation's Child and Youth Services (CYS) and the Army Community Service Family Advocacy Program (FAP) have teamed up to celebrate our military children.
This year's theme, "Brave Hearts, Resilient Souls," highlights the unique lifestyles, contributions and sacrifices military children have due to their parent's service to the nation.
CYS and FAP offers many different programs in support of military children and their parents. For example, the CYS Child Development program offers childcare from six weeks up to the age of 12. These programs provide a warm, safe place to be while parents are working. CYS also offers programs at the garrison's Youth Centers for 6th –12th grader.
FAP conducts several parenting classes throughout the year. Its New Parent Support Program offers parents support for pre-natal through children age three, with classes and education on potty-training, discipline, lactation support and developmental appropriate play. FAP also conducts parenting education such as "Screamfree Parenting," "Positive Discipline" and Gottman's "Bringing Baby Home." FAP educators teach students at school topics that build personal development and life skills. FAP recently conducted a successful workshop titled Parenting in the Digital Age.  Through these programs, military children are exposed to character, social and emotional development.
CYS also offers numerous sports programs. Many military children are already involved in a sport before moving to Stuttgart and fear they won't be able to continue it here. Once enrolled in sports, children can continue to grow and make new friends with other military children. FAP also conducts bi-annual self-defense workshops in collaboration with U.S. Marine Corps Forces Europe and Africa to empower military children.
The CYS SKIES program (School of Knowledge, Inspiration, Exploration and Skills) offers activities such as music lessons and voice lessons, dance classes, gymnastics, Jujitsu, Kung Fu and German language. FAP recently developed new prevention programming that aims to model positive, healthy relationships to Stuttgart military community members. Through this new programming, we are able to reach some of our most at-risk population all while providing educational and fun outings for the whole family. members and avoids overloading.
In addition to being the Month of the Military Child, April is also Child Abuse Awareness Month.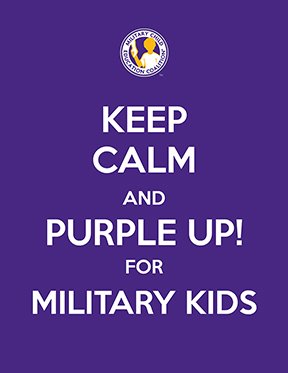 Upcoming MOMC events
Throughout April, the garrison is holding a variety of fun and exciting events to officially recognize the resilience of our military children.
April 27 – Teen Center Lock-in/Smart Strong Kids/Operation Megaphone. Learn self-defense with MARFOREURAF instructors, 6 – 8 p.m. Sign up at Parent Central and Outreach Services at 430-7480 or 0711-680-7480, The Hub, or call ACS FAP at 431-3518/3362 or 0703-115-3518/3362.
April 28 – Spring Fest at the Patch Fitness Center, 11 a.m. – 2 p.m. Free to all families. Come out and support military children with a day of fun activities, bounce house, face painting, balloon animals and more.