By Bardia Khajenoori
USAG Stuttgart Public Affairs
If the house average at Panzer Kaserne's bowling alley has crept up in recent months, there's a good chance the arrival of former All-Navy Bowling Team star Lt. Cmdr. Sandy Longworth has something to do with it. The Sailor came to Stuttgart around six months ago, bringing with her an exceptional bowling pedigree along with an extensive history of participation in the sport.
"I've been involved in regular league bowling since I was eight years old, and I think I got my first bowling ball at eight … I was super excited about that," she said while playing a few games at the Galaxy Bowling and Entertainment Center.
Her first experience playing competitively was in high school in an interstate league that held tournaments across Georgia and the Carolinas. It was there that she played alongside Jason Sterner, who would go on to a professional career.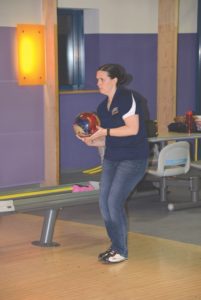 "We kind of grew up bowling together in those tournaments, which is definitely a cool experience to look back on," Longworth said.
She continued playing in college and into her career as a naval officer, to the extent that the bowling center is typically one of her first stops at a new duty station. It can be a comforting environment in a new and unfamiliar place, and it doesn't take long before people strike up a conversation, especially after seeing her play.
Her consistently-high performance is all the more remarkable given the on-and-off nature of her participation – a consequence of her work responsibilities.
"You do what you can. I did a two-year tour onboard the USS Higgins, a Navy destroyer, and during that time I wasn't able to bowl at all," Longworth said. "I did a nine-month deployment and a two-month exercise, then another two-month exercise … I was so busy, I didn't miss it at the time."
However, after moving to Pensacola, Florida, home to the best competition she's regularly faced, she started up again with the support of an assistant manager at the bowling center and an encouraging group of players.
While scores can vary widely between facilities and competitions, depending on the particular oiling pattern of the lanes, a typical average for a nonprofessional bowler is around 160 out of a possible 300. Longworth's current average is between 189 on-post – her lowest in ten years – and 203 off-post. She admits she is still recovering from a year out of the game due to a hectic schedule.
"In Pensacola, even pregnant with my daughter, I was averaging 208 in two different houses for two years," Longworth said.
That consistency got her named to the area's all-star team, but an even greater honor was competing on the women's All-Navy Bowling Team at the 2015 Armed Forces Bowling Championship. Having to qualify for the team at the tournament site added to the pressure.
"I'd never been so worried in my life about whether I would make the team or not. It was a humbling experience," she said.
The first three days on-site were spent qualifying, followed by a day of practice and three days of competition for those scoring highly enough to make the teams. Longworth did qualify, despite her nerves, ultimately performing well and having a fantastic time.
"I met some phenomenal people," she said, adding she remains in touch with a few of her competitors to this day.
The pastime becomes a family affair once a week when Longworth's husband joins her for a good-natured, yet competitive, game.
"He gets very excited when he beats me … it's worth bragging rights in the house," she said.
Their young children have also started bowling, and that accessibility is part of what makes the game so appealing to her.
"It's for anybody. I can bowl with my kids, I bowl with my spouse, and we all really enjoy it," she said.
Longworth has submitted her application for this year's Armed Forces Championship, marking her first availability in three years. In the meantime, she will keep pressing to beat her 277 season-high and all-time best games of 299.
For those of us with more modest ambitions, she advises paying more attention to your headspace than flashy techniques.
"It takes practice, time and patience," she said. "But, if your mental game is not solid, you will not do well in competition."
 Army garrisons offer a 'galaxy' of bowling
With more than 70 bowling centers operated by the Army worldwide, you can't throw a rock – or roll a bowling ball – on an Army post without hitting one.
"Bowling is a lifetime sport that anyone can do," said Jim Einhorn, bowling tech at the Galaxy Bowling and Entertainment Center on Panzer Kaserne.
That goes some way to explaining bowling's popularity. Einhorn knows a thing or two about the enduring appeal of the game; the former Army Europe men's bowling champion started working as a pinsetter in a semi-automatic bowling machine as a teenager, earning 25 cents a line. He previously managed a facility in Heidelberg and still bowls when he can, although he now spends more time assisting with league play in addition to other duties at the bowling center.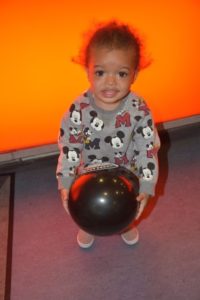 Organized leagues typically run winter and summer leagues. There are currently four weekly leagues in play: a Tuesday night unit league, a Wednesday mixed doubles, a Thursday morning ladies and a Saturday morning youth league. The volunteer-run youth league is particularly active, featuring 40 young bowlers who are so devoted to the game that they created their own league t-shirts.
"Bowlers enjoy the inclusiveness and camaraderie of the game," Einhorn said.
Players in the Stuttgart military community tend to be of varied skill levels, with some very talented players in the European theater; particularly capable and committed players can even reach the heights of service wide competition. The facility undergoes rigorous inspections in order to maintain sanctioning by the U.S. Bowling Congress, the primary membership organization for bowling in the U.S. Any individual league may request to be officially certified.
Outside of league play, the center offers weekly promotions including $1 games for women on Tuesdays and Penny-per-Pin Thursdays, where players pay a penny for every pin they knock down. Party packages combine group bowling, shoe rental, pizza and drinks at a great value, while the fully-equipped snack bar serves up a variety of fresh foods to satisfy bowlers and non-players alike.