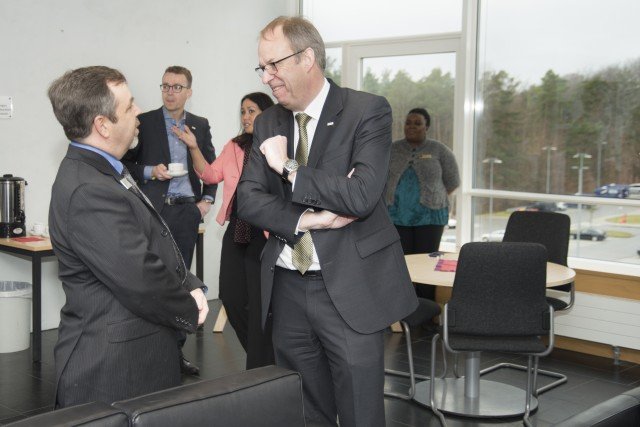 By Robyn Mack
USAG Stuttgart Public Affairs
U.S. Army Garrison Stuttgart employees participated in the second workforce development session with local company, Kärcher, March 2.
The exchange is part of the USAG Stuttgart Mentorship Program offered to garrison employees.
The sessions are an opportunity for both organizations to share best practices and ideas that will help expand current workforce development programs, said Catherine Bianco, USAG Stuttgart civilian workforce development specialist.
"Our professionals are our biggest asset," said Heidi Malarchik, deputy to the USAG Stuttgart commander and program participant. "We consistently seek new approaches in how we can facilitate developmental opportunities for our garrison professionals. Gaining new insight and best practices from other agencies is essential to this process."
The first session with Kärcher, headquartered in Winnenden, Germany, took place Nov. 6, 2015. The company manufactures cleaning equipment and employs more than 11,000 people worldwide.
"Surprisingly, there are a lot of similarities," said Lewis Grable, USAG Stuttgart Information Management Office. "[Kärcher] grooms people in the same manner as the Army, or any other government service. They recruit and invest in you, to help grow the organization."
U.S. Army Master Sgt. Robert Bragg, a USAG Stuttgart plans and operations noncommissioned officer, said the likenesses made the exchange valuable. Noting that the in- and out- processing procedures used within the Department of Defense are replicated by private organizations.
"The commitment to people keeps them at the company, and the turnover very low," he said.
While visiting Stuttgart the exchange will continue with workforce development training led by the USAG Stuttgart Directorate of Human Resources team, tours of the Army Community Service center and Department of Defense Education Activity schools, and a command leadership briefing presented by Col. Glenn K. Dickenson, USAG Stuttgart commander.
"The heads of all my departments are here today," said Rüdiger Bechstein, Kärcher's executive vice president of human resources. "We want increase our global understanding by learning how other organizations work."
The company historically had a connection to the U.S., having been selected to pressure wash Mount Rushmore in South Dakota with their non-chemical based system, according to Bechstein. "We are currently managing water treatment plants in Iraq and Afghanistan."
"More than 85 percent of our business is outside of Germany, with a majority occurring in the U.S.," he said.
The garrison-sponsored Mentorship Program provides professional development opportunities, encourages the development of leadership competencies, and improves retention of employees by facilitating growth and progression within the Installation Management Command.