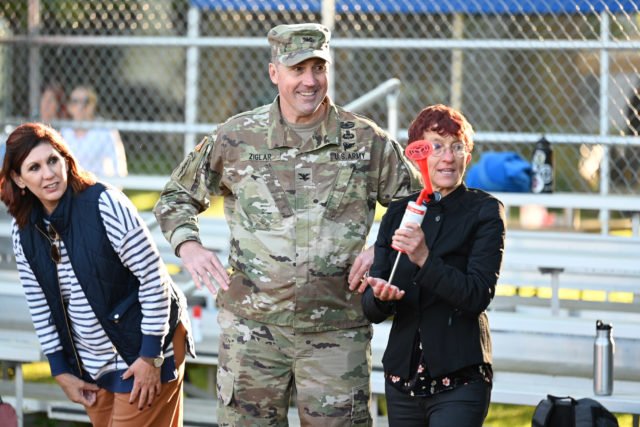 Story and photos by Paul Hughes
USAG Stuttgart Public Affairs
The District Mayor of Plieningen, Andrea Lindel, blew an air horn signifying the start of the 11th Annual AFRICOM Olympics, Thurs, Sep 2, on Kelley Barracks.
General Stephen J. Townsend, U.S. AFRICOM commander introduced the mayor to a rapturous round of applause from the 400 AFRICOM athletes and athletic spectators. USAG Stuttgart Garrison Commander, Col. Matt Ziglar and the garrison command team escorted Mayor Lindel across the Army post that sits in her district.
After General Townsend's opening remarks, it was down to Mayor Lindel to start the first race, the 4 x 100 m sprint and afterwards she visited the Stuttgart Family and MWR fall bazaar in the Kelley club. While it was not the mayor's first visit to Kelley Barracks, it was her first visit to the AFRICOM Olympics.