By Mac Hightower
Stuttgart Citizen volunteer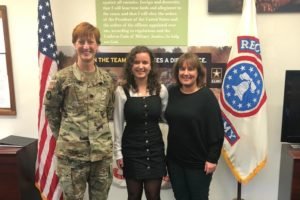 Rebecca Hartner is two parts muscle and three parts brain. At 19 years old, the Oregoner has worked as a surgeon, travelled to Norway, Taiwan, and Nepal, and ran a half marathon. A student at the International School in Ulm, Germany, Hartner made the decision to enlist in the Army.
The idea came on a flight back to the U.S. from Frankfurt. Hartner shared a casual conversation with an enlisted Army service member. The physical and mental challenges that one must overcome attracted Hartner.
"We talked and I thought, 'wow, this is really up my alley,'" Hartner said. "I want to attend Ranger school."
She works out regularly, running three times a week, and weight training four. All the women in Hartner's family work in medicine. Her mother and grandmother are nurses, and her sister works in public health.
Before heading to basic training at Fort Sill, Oklahoma, Hartner spoke to the Stuttgart Citizen about her goals.
Stuttgart Citizen: What will you be doing in the Army?
Hartner: I'm going to be a combat medic. I want to help people.
SC: Do you have any family who served?
Hartner: No, not really. My grandfather was in the German military. I have family in Bavaria.
SC: Do you have any other future or professional goals?
Hartner: Yes. I want to be a trauma surgeon. I worked in a trauma lab as an intern for a few summers and I really loved the fast pace of the operating room.
Interested in joining the Army? Contact the Stuttgart Recruiting Station Guidance Counselor at Panzer Kaserne 2913, Room 314, or call +49 162 2631241