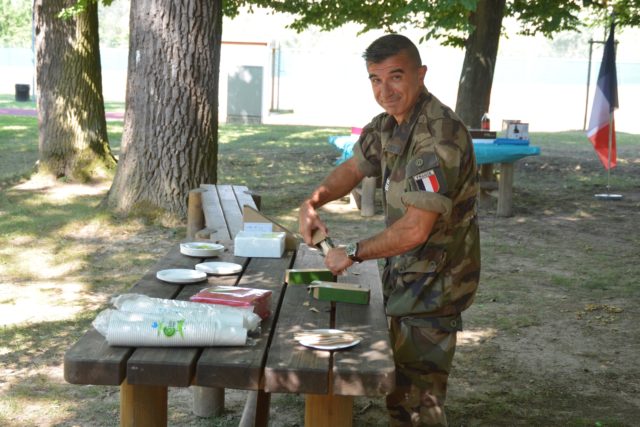 By Bardia Khajenoori
USAG Stuttgart Public Affairs
Guests from across the community joined the French Liaison Team to the U.S. Forces in Stuttgart for a "Bastille Day" celebration on July 14 at Kelley Barracks.
While the day is celebrated annually in Paris with a large parade along the Champs-Élysées, the engagement on Kelley Barracks was an intimate affair, with an emphasis on the longstanding French-American relationship.
"Our friendship is bound in blood and solidly anchored in our shared values," said Col. Christophe Barbe, Senior French Liaison Officer to U.S. Africa Command and U.S. European Command.
France was a major ally in the American Revolutionary War, and Barbe acknowledged that joint battles like Yorktown and celebrated French military leaders from that era, such as the Marquis de Lafayette and the comte de Rochambeau, are better remembered these days by Americans than the French (just ask any Hamilton fan).
Barbe went on to note that close cooperation between the two countries continues more than two centuries later, pointing to a timely article in Stars and Stripes announcing the U.S. Army's first-ever use of the French port of La Rochelle in support of NATO operations.  Barbe also noted joint efforts to promote security and prosperity in Africa.
"Nowadays in Europe and Africa, the United States and France, with their partners, defend the values of freedom and democracy," said Barbe.
The "pique-nique," now in its fourth year, was filled with spreads of charcuterie (cured meats), cheeses, desserts, and drinks brought from France for the occasion—all of which was enjoyed by U.S. military and civilian personnel, family members, and liaison staff from over a dozen partner countries.
Wayland Wong, a civilian employee who works on Kelley Barracks, learned of the event through an open invitation from the liaison team and appreciated the informal cultural exchange. "It's a great opportunity to meet and talk face-to-face, outside the work environment where it can get a little stressful," said Wong, a relatively new arrival to the Stuttgart community.
The fourteenth of July has been a French national holiday since 1880. It commemorates the 1789 storming of the Bastille, a fortress in which monarchs imprisoned political dissidents, and the "Festival of the Federation," a year later. The day was meant to symbolize peace and unity during the revolution, said Barbe.
Lt. Col. Marcel Arel, operations branch chief at Africa Command's Multinational Cooperation Center, praised the event as well executed and characterized it as the sort of activity that fosters camaraderie and trust among partner nations.
"AFRICOM is very partner-centric in its approach, so that's what helps build these relationships, gets people on-site, and leads to great events like Bastille Day," said Arel. He added that the U.S. side tries to provide similar experiences and that celebrations of other allied nations' festivities are common. "It gives the opportunity for our community to enjoy their culture because they're here supporting us."