By Lt. Col. Lisa Dennis
Executive Officer, Army Health Clinic Stuttgart and
Stuttgart Advisor, Girl Scouts of America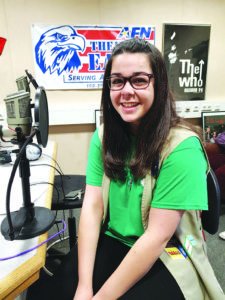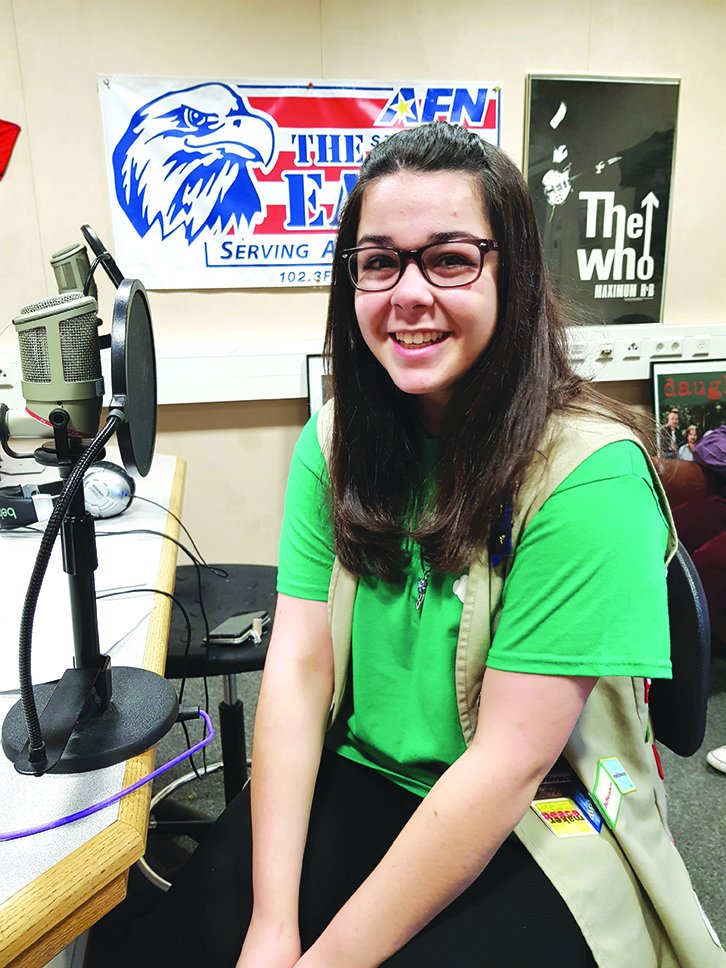 Mika Taylor, an Ambassador of the Stuttgart Girl Scouts Overseas Troop # 509, has completed more than 200 hours of dedication and research to meet the requirements for her Gold Award.
"The Gold Award stands for excellence and leadership," said Natasha Hodges, Stuttgart Girl Scout Leader. "Some rewards of completing this project are possible advanced rank in the military, college scholarships, as well as becoming a role model in the community, learning more about yourself and how to best become a leader".
The main goal of her project, "Mind Drive," was to address literary deficiency by taking advantage of the time children spend in waiting areas and provide them an opportunity to read instead of watching television or playing on portable electronics, Taylor explained.
"My motivation to tackle the issue of literacy was my younger sister, Roberta. She had reading gaps after attending both German and Japanese schools, along with learning to speak both Spanish and English at home, all by the young age of five," Taylor said. "The culmination of all of these multi-language experiences created an extremely challenging learning experience for her and she quickly fell behind in reading. Now, after years of support, she enjoys reading and learning, and grows more every day.
"The experience with my sister taught me the importance of not only books, but how reading can change a life," Taylor said.
Taylor hoped to give the youth in the Stuttgart military community an alternative, more educational form of entertainment to improve their reading skills, promote reading together as a family and provide resources to families who are in transition. Small baskets of books and literacy education were placed in waiting rooms around the community where children would be present, Taylor said.
Literacy in American communities is becoming an increasing issue; according to a survey by the Organization for Economic Cooperation and Development over the past two decades, Americans' reading proficiency has declined across most age groups.
"By providing a reading alternative to the younger generational preference for electronics, I had hoped my project would grant everyone in the USAG Stuttgart community an opportunity to read more," Taylor said.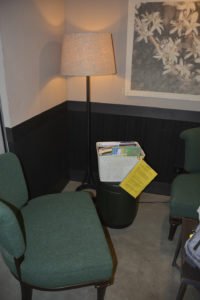 Taylor created a series of literature basket stations that function along the lines of a bookmobile. Through donations, she collected books and categorized them by age group. She also created stickers with the Gold Award label on it and mixed them accordingly in each of 20 baskets with 40 books each. Taylor created a list of basket rules:
Pick up a book and enjoy your reading journey!
If you like the book, you can take it with you and finish reading it. Afterwards, please take it back to where you picked it up or drop it off at another literature basket location.
If you really love the book, keep it and read it over and over again! Pay close attention each time you read, because you can discover something new each time you do. Please also consider exchanging or donating one of your books that you don't like reading anymore; I'm sure someone else will.
Keep reading! It really does nourish your intellect, creativity, and future!
While much of her project was an individual effort, Taylor credited support from her family (Katherine and Lt. Col. Mike Taylor, her little sister Roberta); Stuttgart troop leader Hodges, Troop 592 leader LaRona Mitchell, who will help continue the project after Taylor is gone; Col. Neal Corson, commander, USAG Stuttgart for fully approving and encouraging the project; and Michaela Ratcliff and Kirk Thompson for their sponsorship.
"Please be sure to keep reading," Taylor said.
Where to find a literacy basket
There are currently 20 baskets at 20 locations throughout the Stuttgart military community:
Patch Barracks: Army Health Clinic (including Family Advocacy, TRICARE, and the Optometry Clinic); Skies Unlimited; Arts and Crafts; and Java Café.
Panzer Kaserne: In Bldg. 2915, the lobby, Army Community Service, USO and ID cards; Panzer Hotel; Housing Office; Dental Clinic; and Starbucks
Robinson Barracks: Robinson Barracks Zentrum
Kelley Barracks: Health Clinic, Kelley Hotel, STC, and Java Cafe.
The Girl Scout Gold Award
The award has been around since 1916, originally under names such as the Golden Eaglet, Curved Bar Award and First Class. It is the highest and most prestigious achievement within Girl Scouts of the USA, earned by Senior (9th and 10th graders) and Ambassador Scouts (11th and 12th graders), and is the Girl Scout equivalent to the Eagle Scout award for Boy Scouts. Fulfilling the requirements for the Gold Award starts with completing two Senior or Ambassador Journeys or having earned the Silver Award and having completed one Journey. The process of the project itself is seven steps, consisting of: choosing an issue; doing research; gaining a sponsor; creating and presenting a plan; recording time and budget logs; doing a wrap-up; and educating and inspiring. Eighty hours are the suggested minimum amount of time a Girl Scout would need to submit their project.