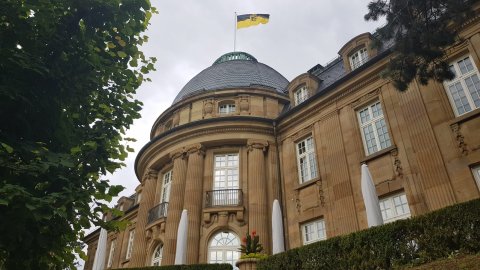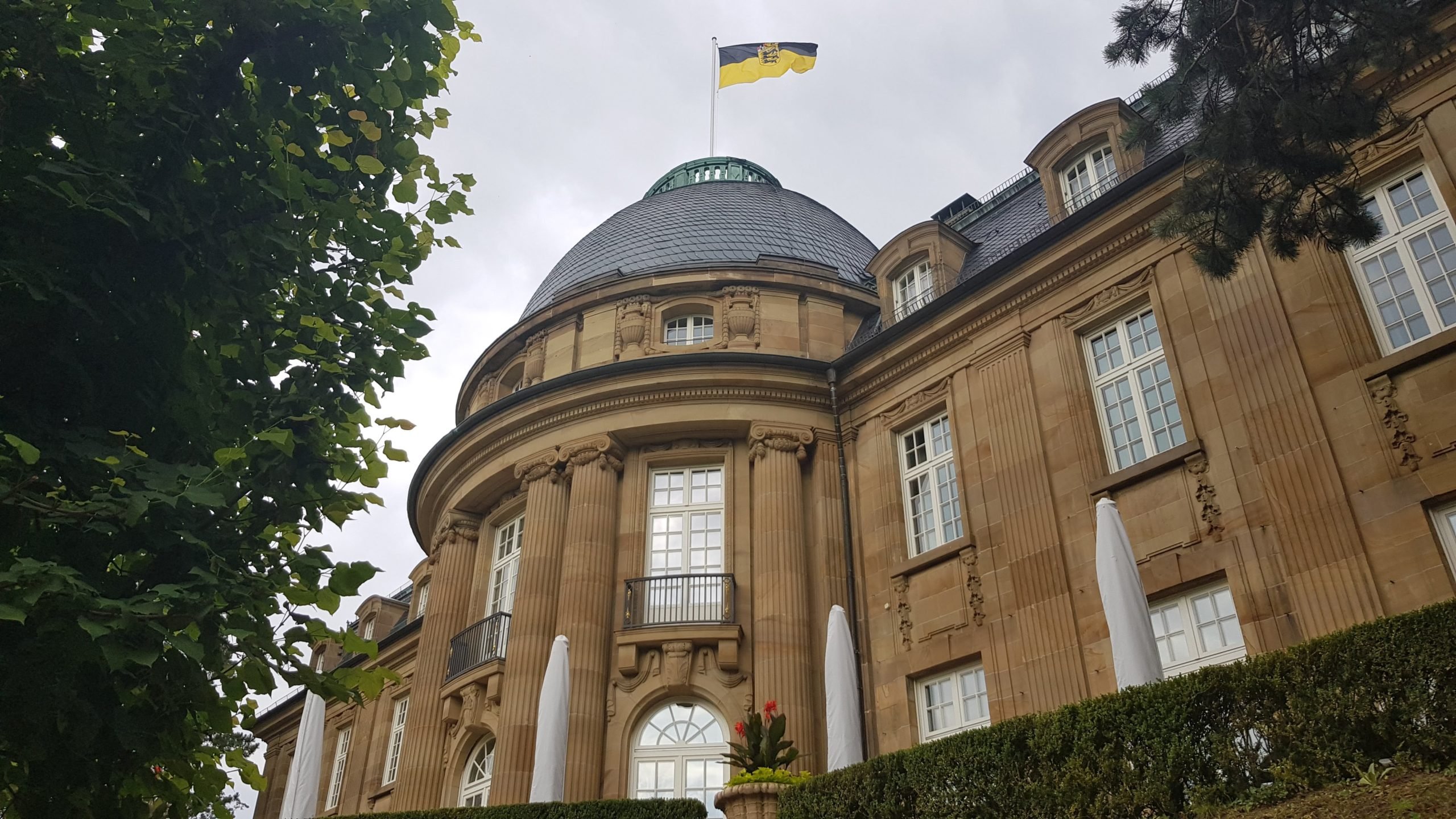 USAG Stuttgart Public Affairs
Updated to reflect new rules in effect from December 27, 2021.

FFP2 or comparable masks (e.g., N95, KN95) are required at off-post shops, restaurants, museums, and libraries in Baden-Württemberg, effective Jan. 12, 2022. Surgical masks are still sufficient for travel on public transportation.

This information is provided as a courtesy to the Stuttgart military community, focusing on the most relevant aspects of the statewide Corona Ordinance to our community, and is not authoritative. For full, official details in German, see the CoronaVO page on the state government website.

The conditions described on this page are applicable only in Baden-Württemberg and may not be the same in other German federal states or neighboring countries.

Scroll down to view a list of current restrictions by sector/activity and an explanation of the 2G/3G system.
The state of Baden-Württemberg issued an amendment to its main coronavirus ordinance effective September 16. The amendment established a three-level system of restrictions based on hospitalization rates and available beds in intensive care units in the state. This is comprised of a baseline level, a warning level, and an alarm level. The baseline level, which is effectively the 3G (vaccinated, recovered, or tested) rule introduced on August 16, applies when neither the warning nor alarm level apply. At the warning and alarm levels, PCR tests replace rapid antigen tests, or access is limited to vaccinated and recovered persons only, depending on the sector.
People who are not vaccinated or recovered from the coronavirus will encounter new restrictions off-post. There are no specific new restrictions affecting vaccinated or recovered people at this time. Essential stores and services (grocery stores, gas stations, pharmacies, bakeries, butcher shops, open air markets, etc.) are open without restrictions. Effective November 24, a 3G requirement (vaccinated, recovered, or tested; see below) applies to public transportation across Germany for passengers six years of age or older. This includes both local transit and intercity services.
Overnight curfews may apply to unvaccinated or non-recovered individuals in certain off-post communities with particularly high incidence/hospitalization rates. In these areas, non-vaccinated/non-recovered individuals may only leave home for a valid reason (e.g., in case of a medical emergency, or to go to work). See "Current Localized Restrictions" section.
---
Click to view a list of sectors/activities and requirements by level (currently available only in German)*
---
Children up to and including five years old, or who have not yet started school, are generally exempted from the testing requirements and entry bans. Children up to 17 years old are generally exempted from the 2G restrictions at the 'Alarm' level, or can use a negative rapid test where one would otherwise not apply. Pregnant women and people who cannot be vaccinated for medical reasons are also generally exempted to the test requirements.
If you have plans off-post and are unsure about how the restrictions may apply to you, contact the business/service for guidance.
An additional level, Alarm II, was introduced and took effect on November 24 based on hospitalization/ICU thresholds being exceeded at the time. Alarm Level II adds an additional requirement for vaccinated and recovered people to provide a negative test for access to indoor dining, theater, opera, film screenings, concerts, sporting events, Christmas markets, and body-related services with close contact such as nail salons. Exemptions to the 2G+ testing requirement apply: see the "Explanation of Host Nation COVID Requirements" section below. Hair dressers and barbershops remain open under 3G+ rules. Until Jan. 31, 2022, not yet fully immunized youths between 12 and 17 have access to 2G rule areas with the presentation of a rapid antigen test taken that day.
Effective Dec. 27, 2021, restaurants are subject to a curfew between 10:30 p.m. and 5 a.m. (except New Year's Eve, when the curfew begins at 1:00 a.m.). Private gatherings in catering establishments are subject to the applicable contact restrictions (see contact restrictions section below).
FFP2 or comparable masks (e.g., N95, KN95) are required at off-post shops, restaurants, museums, and libraries in Baden-Württemberg, effective Jan. 12, 2022. Surgical masks are still sufficient for travel on public transportation.
Vaccination and QR Codes
The primary means of verifying COVID vaccination status in Germany is through the "EU Digital COVID Certificate," which consists of QR codes obtainable at local pharmacies, either printed out or loaded into a mobile application.
Vaccination continues to provide the best possible protection against COVID-19 infection, and especially serious illness or hospitalization. If you or a family member are aged 12 or over and have not yet been vaccinated, click here for information on how to do so.
---
Explanation of Host Nation COVID Requirements:
2G means only fully vaccinated or recovered people are permitted. Individuals are only considered to be fully vaccinated 14 days after the final dose of their recognized COVID-19 vaccine (#2 for Pfizer/BioNTech and Moderna, single dose for Janssen/Johnson & Johnson). People are considered recovered with a PCR test confirmation of a COVID-19 infection that is at least 28 days old, but no more than six months old.
2G+: Same as 2G, but the plus means that vaccinated and/or recovered individuals must also provide a negative test. A rapid antigen test no more than 24 hours old is sufficient. Exceptions apply to the testing requirement, including people whose initial vaccination series was completed less than three months ago*, have recovered from a documented COVID-19 infection within the past three months*, have received a booster vaccination, and people for whom Germany's Standing Vaccination Commission has no recommendation regarding a booster vaccination – in particular fully vaccinated children and adolescents up to and including 17 years of age.
* Effective Dec. 27, 2021, the exemption from testing for 2G+ spaces has been reduced to three months vaccinated or recovered, instead of the six months, as before. Those who have received a booster are still exempted.
3G means fully vaccinated, recovered or tested. The test required for non-vaccinated/non-recovered can be a negative rapid antigen test no more than 24 hours old, or PCR no more than 48 hours old.
3G+ means vaccinated, recovered or PCR tested. Here, a negative PCR test is required of unvaccinated individuals; rapid tests are not sufficient.
---
Current contact restrictions in Baden-Württemberg:
Effective Dec. 27, 2021, in the Alarm Level II, private gatherings gatherings at which at least one non-vaccinated person is present are limited to one household plus two additional individuals.
Contact restrictions also apply to vaccinated and recovered persons. No more than 10 people may gather indoors, and no more than 50 people may gather outdoors.
In both cases, children 13 and under, regardless of their vaccination status, do not count toward the total, and couples who do not live together count as one household.
---
Current localized restrictions:
Additional restrictions apply to non-vaccinated/recovered persons in certain counties designated as "hot spots" based on a particularly high level of infections.
The local public broadcaster, SWR, maintains a map-based listing of counties across Baden-Württemberg where these restrictions currently apply.
Specific messages which may be seen include:
Es gilt eine Ausgangssperre von 21 bis 5 Uhr für Ungeimpfte. =  Exit restrictions (a ban on leaving your residence for non-essential purposes) apply to non-vaccinated/non-recovered from [9:00 p.m.] to [5 a.m.] (times may differ).
Im ganzen Land gilt 2G im Einzelhandel = Non-essential retail stores in the entire state currently operate on a "2G" basis (fully vaccinated or recovered only, no entry allowed through testing)
---
Requirements for proof of vaccination and/or testing when entering Germany
Travelers entering Germany from a foreign country after a stay of more than 24 hours must be able to show proof of being tested, fully vaccinated, or recovered (3G). Children under six years old are exempted from the obligation test.
The requirement applies regardless of the form of transportation (including, but not limited to, airplane, train, or private car) and whether or not the previous stay was in a high risk area. Although not all travelers will be asked to show the documentation, it is necessary to have it — Polizei are conducting spot checks in border areas, and not having the required documentation may result in denial of entry to Germany and/or fines.
Tests may be PCR (no older than 72 hours before entry into Germany) or rapid antigen (no older than 48 hours). Results must be in German, English, French, Italian, or Spanish.
Proof of recovery must be no older than six months.
Travelers who have spent more than 24 hours in high risk areas must complete online registration (the "Einreiseanmeldung") before returning to Germany and must follow any applicable Host Nation and garrison quarantine and testing policies. All travelers entering from a virus variant of concern (VoC) area must be tested, even if they are fully vaccinated or recovered, and are not able to avoid or reduce the mandatory 14 day quarantine.
Day-trippers who have stayed in a non-risk area for less than 24 hours do not need 3G proof to return to Germany, but anyone who has spent time in a high risk area must have this proof even if online registration is not required.
---
EU Digital COVID Certificate
Your CDC COVID-19 Vaccination Record can be turned into a digital certification of full vaccination valid (where proof of vaccination or testing is required) across Germany and the EU.
---
Mask Requirements

FFP2 or comparable masks (e.g., N95, KN95) are required at off-post shops, restaurants, museums, and libraries in Baden-Württemberg, effective Jan. 12, 2022. Surgical masks are still sufficient for travel on public transportation.

Children five years old and younger are exempt from mask requirements; fully vaccinated and recovered people are not.

As of January 12, Non-medical masks are no longer acceptable for use on post. Masks are required to be medical, or FFP2 and equivalent masks, for anyone over the age of five. except where stated otherwise. Specifics about on-post mask policy are available here.

Masks must be worn in public transit (both inside vehicles and at indoor stations/stops) and inside shops and shopping centers, as well as in their parking lots.
---
Collection of personal data for contact tracing

Visiting restaurants, museums, and similar places may require providing personal data such as name, address, and phone number/email address to facilitate contact tracing in the event of an outbreak at that time and location.

Individuals who refuse to provide this information may be denied entry to the location, and providing false information is punishable by a fine.

Data protection laws require this information to be strictly safeguarded and used for the sole purpose of providing information to the public health department or local police authority in accordance with legal requirements in the event of an outbreak. The data is stored for four weeks and then deleted; the law requires that unauthorized persons do not have access to the records.