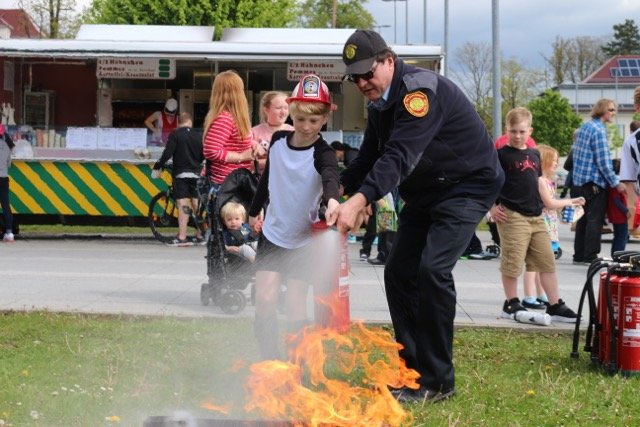 By John Reese, USAG Stuttgart Public Affairs
USAG Stuttgart Fire Department, and the
National Fire Prevention Agency
Photos by USAG Stuttgart Fire Department
The Great Chicago Fire, which began on Oct. 8, 1871, and devastating the city, killed more than 250 people, left 100,000 homeless, destroyed more than 17,400 structures and burned more than 2,000 acres of land. In commemoration of that conflagration, Fire Prevention Week is observed each year during the week of Oct. 9.
Since 1922, the National Fire Prevention Agency has sponsored the public observance of Fire Prevention Week. In 1925, President Calvin Coolidge proclaimed Fire Prevention Week a national observance, making it the longest-running public health observance in the U.S. During Fire Prevention Week, children, adults and teachers learn how to stay safe in case of a fire. Firefighters from the U.S. Army Garrison-Stuttgart will provide lifesaving education for students of the in an effort to drastically decrease casualties caused by fires.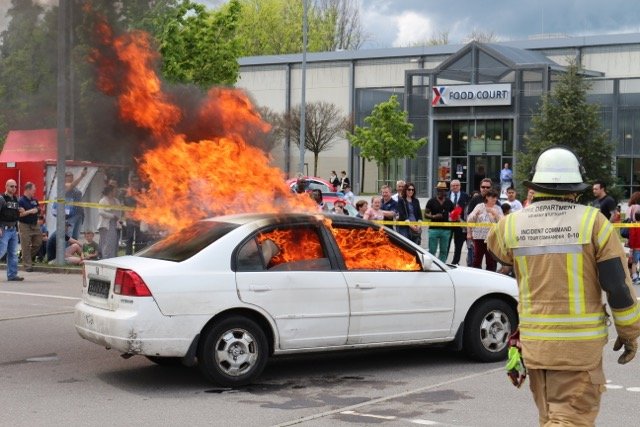 "Fire Prevention Week this year is Oct. 7-13; it's a good time to go over the fire safety plan in your home and office," said firefighter Michael Ambacher, USAG Stuttgart Directorate of Emergency Service-Fire Division. Ambacher, a veteran firefighter, is well-known in the Fire Service community for his development of unique training using locally available resources that meets the needs of firefighters and the requirements of the garrison. He and other members of the department will be visiting the garrison schools to share this year's FPW campaign: "Look. Listen. Learn. Be aware. Fire can happen anywhere." The campaign works to educate students (and their about three basic but essential steps to take to reduce the likelihood of having a fire––and how to escape safely in the event of one.
Fire safety education isn't just for school children. Teenagers, adults and the elderly are also at risk in fires, making it important for every member of the community to take some time every October during Fire Prevention Week to make sure they understand how to stay safe in case of a fire. In a fire, mere seconds can mean the difference between a safe escape and a tragedy.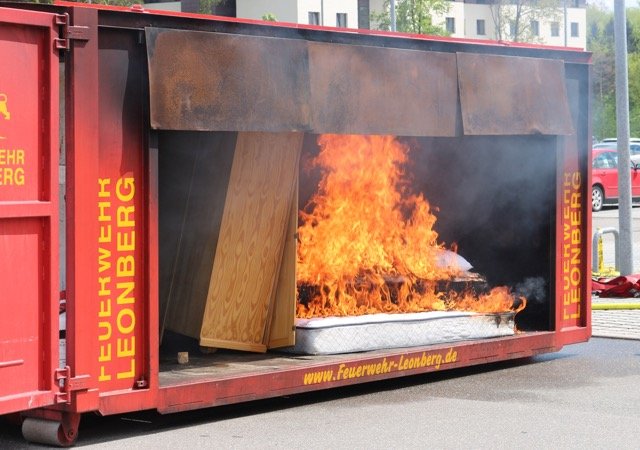 "Your USAG-Stuttgart Fire Department will be promoting Fire Prevention Week with school demonstrations, an information booth at the Panzer Main Exchange, and new this year, a firetruck pull competition to be held at the Patch Xpress on the 11th of October," Ambacher said. "Come cheer on your favorite teams at 10 a.m., followed in the afternoon by a rescue demonstration of a victim trapped under a vehicle in the gas station parking lot."
Members of the Stuttgart military community, especially those in residential areas, can attend monthly evacuation training offered by the Fire Department. See the announcement in the News Briefs section.
"Remember to review your fire safety plans a couple of times a year, not just during Fire Prevention Week," Ambacher said. "Your USAG-Stuttgart Fire Department cares about your safety!