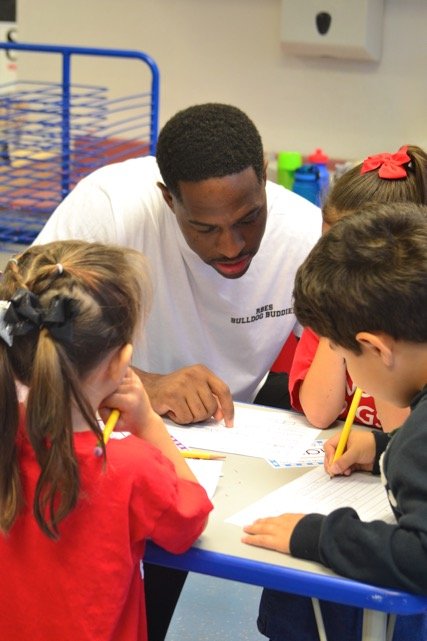 By Special Education Teacher Janis Renninger
Robinson Barracks Elementary School
The challenge of being a military child be daunting for students. Long hours, TDYs and long deployments are just some of the difficulties that families face when trying to connect with school and their children.
The Parent Teacher Student Association (PTSA) at Robinson Barracks Elementary School has started a program with the support of the principal, teachers and School Liaison Officer Brian Pappas called "Bulldog Buddies." The goal of the program is bring volunteer RBES dads into the classrooms one time each month to interact with the staff and students. Bulldog Buddy volunteers will be working across many classrooms, interacting with students during specials, recess and lunch, and even getting the opportunity to directly help students with academic work during the day.
"Bulldog Buddies is so very important to our school in particular because our kids deal with their parents working late hours and going TDY often," said Sabrina Wilson, president, RBES PTSA. "We, as adults who have been a part of this military life for so long, sometimes forget how difficult it can be emotionally for our kids."
Wilson explained that the program's success can be attributed to the generous volunteers who are ready and willing to give their time to be a Bulldog Buddy.
The Bulldog Buddy program kicked off on Sept. 7 with four volunteer dads. Wearing specially designed t-shirts to identify them to the staff and students, the Buddies participated in classes and activities throughout  school day.
"I had fun and really liked interacting with the kids and especially enjoyed reading to the kindergarten students," said Eric Newsome.
Nick Hilliard, who has a 3rd grader at the school, reported that it was a "great experience and it was especially good to interact with students across grade levels."
One benefit of the fathers coming during the school day is that it also gives them the opportunity to see how education has evolved since their own elementary school days.
"To have the opportunity to help teachers influence kids in their learning environment was probably my favorite part," explained Nate Wilson. "Seeing how education has changed since the early '80s and sharing those experiences with kids was fun."
Odell Jackson, dad of a current RBES 3rd grade student, enjoyed his experiences as a Buddy.
"It was much more than I initially expected, from helping our kindergartners properly write their names to working on physical exercise drills in the gym," "My day was an adventure from start to finish," Jackson said. "I saw so many kids just excited to see the dads in the school. I am proud to say I'm an active Bulldog Buddy."
[slideshow_deploy id='40962′]
Become a RBES Bulldog Buddy
If you're an RBES father and would like to participate in the Bulldog Buddies program, a minimum of four dads being sought out as volunteers for the first Friday of each month. Slots are filling fast. Email the PTSA president at rbespresident@gmail.com.