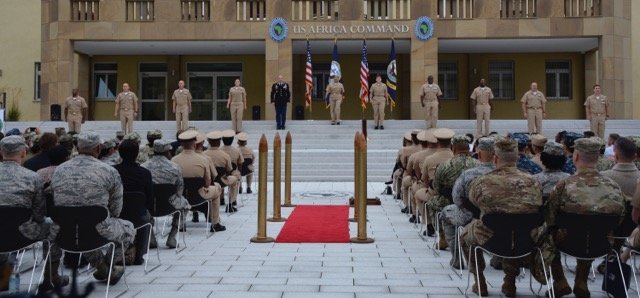 Story and photos by John Reese
USAG Stuttgart Public Affairs
Although the USAG Stuttgart is a joint-service community, here's something you don't see every day: An Army master sergeant being accepted into the Navy Chief's Mess, Sept. 14
In a ceremony familiar to Sailors, Marines and Coast Guardsmen but foreign to Soldiers and Airmen, Master Sgt. Jacob Huckleby, a senior Armor/Cavalry noncommissioned officer currently serving with U.S. Africa Command, became a member of the Chief's Mess on pinning day,. And to make it more interesting, his sponsor wasn't in the Navy–he is a senior chief petty officer of the Coast Guard.

"I am a member of the Stuttgart Area Chiefs and I recommended to the Chief's Mess that Master Sgt. Huckleby be allowed to go through the Sailor 360 and Chief's Initiation process based on his desire to learn about naval tradition, history and his willingness to join the Chief's Mess," said Senior Chief Petty Officer Richard M. Whitney, senior enlisted advisor, AFRICOM J31 Joint Operations Center. "His inspiration was his grandfather's service as a Navy chief."
Huckleby never got to speak with his grandfather to learn firsthand about his service.
"My grandfather fought in the Pacific during World War II as a chief gunners mate," Huckleby said. "He passed in 1972 and I never got the chance to meet him. Any chance that I can walk in my grandfathers shoes and experience some of the traditions that he experienced is quite humbling.:"
Huckleby's blue Army Service Uniform stood out amidst the Navy Service Dress Khaki uniforms as he marched into the ceremony, singing cadence called by the Sailor leading the 11 inductees onto the square in front of the AFRICOM headquarters building. Pinning day was Navy-wide, as 4,704 active, 448 selected reserve and 262 full-time support first class petty officers were admitted to the chief's mess, according to The Navy Times.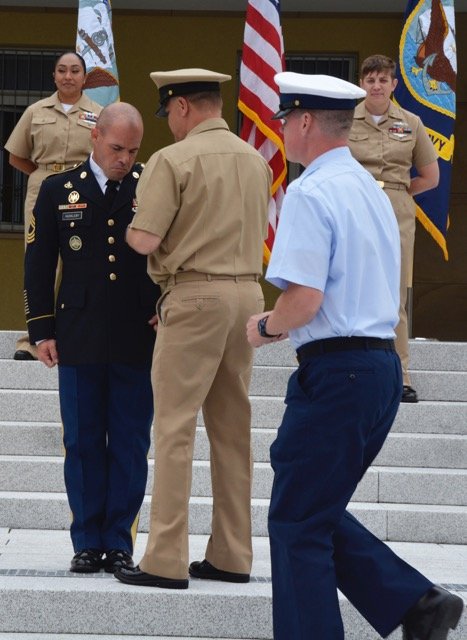 An interesting part of the program was the chief selects singing the songs of the five services. When the call of "To the Army" was heard, a small scattering of Soldiers in the audience, surrounded by Navy and Marine duty uniforms, stood and robustly joined in singing the Army song. The Marines stood and sang their service song as well.
Whitney and Huckleby became friends in July after marching together during the annual Nijmegen commemoration for the biggest airborne drop of World War II. During that time, the Coastie got to know the Soldier.
"We marched 100 miles in four days with over 5,000 military personnel from 39 countries, and I witnessed his dedication in taking care of his Soldiers, his sound judgement and as an ambassador of goodwill–the qualities of a great chief," said Whitney.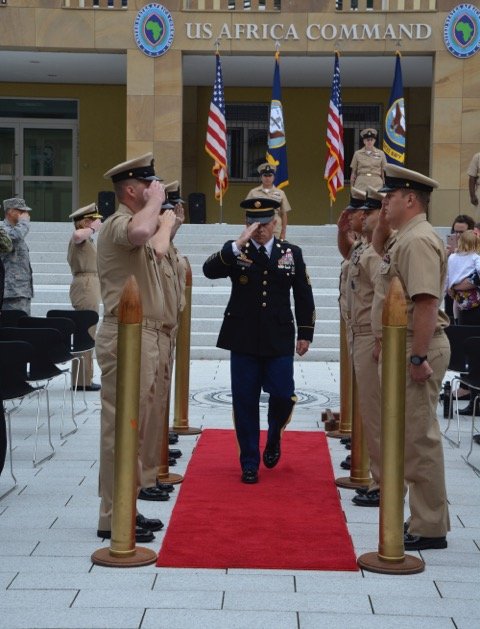 Huckleby was introduced to the Navy's CPO 365 program in 2014 and decided to pursue the opportunity to learn more about being life as an enlisted Sailor.
"To reinforce the opportunity to work with and to learn from any branch of service is an opportunity that we should take. We are joint, and we will remain joint well into the future. I believe this really goes back to growing as a leader, as a Soldier, Sailor, Airmen, Marine, or Coastie," Huckleby explained. "All branches of service are similar, and for the most part share the same values and beliefs. We have volunteered to support and defend the constitution of the United States. We are all working toward the a common goal."
The traditional Navy ceremony included the history of CPOs and a reading of the CPO's charge, plus a dynamic, engaging story told by Rear Adm. Heidi Berg, J2, AFRICOM about her first chief and the impact he had on her career.
After being pinned and having their cover ceremoniously placed on them by friends, mentors or family members, the 10 chief petty officers and lone master sergeant returned salutes to a party of sideboys as a ship's bell welcomed them aboard the Chief's Mess via a red carpet lined with ropes and cannon rounds.