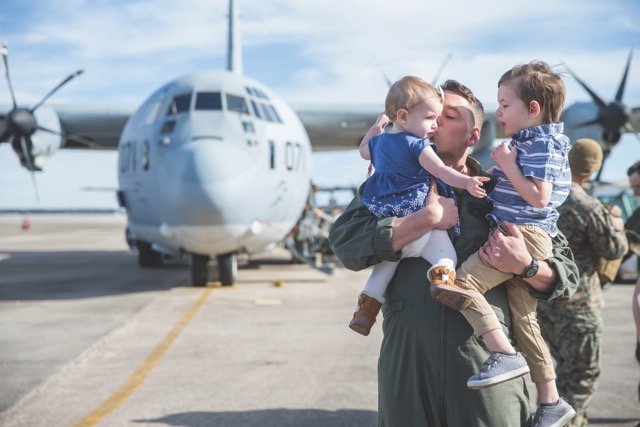 By Ch. (Maj.) Kelly O'Lear
Command Chaplain
Special Operations Command –Africa
This is the Month of the Military Child. Being a father of four, I can appreciate the sacrifices military children face. Research reveals some of the unique aspects of the military child. I've added some family experiences to clarify the points.
Military children are less likely to know their hometown. One of my sons told someone he was from "the Bronx" but later claimed to hail from "Westchesterington." He was born in Newport News, VA.
Military children are more likely to wake up early. This work ethic has paid dividends to my adult sons.
Military children are more likely to struggle with separation anxiety. Deployments, temporary duty, and moving from duty station to duty station has empowered my kids with resiliency, friends all over the world they enjoy visiting, but has also can create a sense of worry regarding future insecurity.
Military children living overseas are better at cultural adaptation. Military kids are comfortable in different cultures because they experience them growing up as their brains and attitudes form.
As adults, military children are more likely to respect their parents' career. Of course, they get irritated when it's time to pack up and move (again!). However, they look back and appreciate their parent's service as they mature and assume their own responsibilities in life.
As a parent of two adult and two minor children, I can appreciate all that goes into being a military kid. But navigating military life can also be difficult for families. One source of resiliency is spiritual development. A child's faith is "caught" as much as it is "taught." As adults, children typically mirror their parent's religious and spiritual values.
In the Bible, Moses charges the Israelites to share their rich spiritual heritage with their children:
"You shall teach them to your children, talking of them when you are sitting in your house, and when you are walking by the way, and when you lie down, and when you rise." Deuteronomy 11:19
I want to encourage you to take time as a parent to examine the faith and values you want to pass on to your children.  Scripture also tells us:
"Train up a child in the way he should go; even when he is old he will not depart from it" (Proverbs 22:10).
The kids are watching, they are learning, and the future is before them.