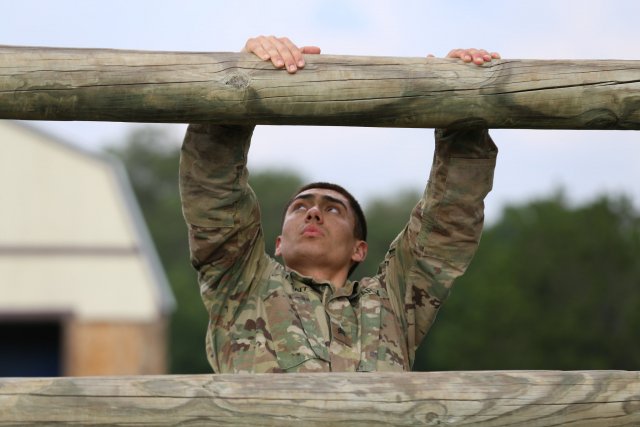 By IMCOM Public Affairs
It was fierce competition during this year's event where Soldiers were required to face multiple exercises testing their Soldier skills and knowledge.
Events included a land navigation course, live-fire ranges, an obstacle course, physical fitness tests, a written essay, and a board testing Army knowledge.
"We congratulate all and each of you for completing this rigorous event," said Brig. Gen. Mark Bennett, director, resource management, Installation Management Command. "By just competing, you have not only increased your individual readiness, but also our Army's ability to deploy and fight at anytime and anywhere."
IMCOM Soldiers traveled from around the world to compete for the chance to claim Best Warrior for IMCOM and to advance to the next level of competition.
Emmons, a veteran of six Best Warrior competitions and 2018 Department of the Army Best Warrior Competition third-place competitor, says he enjoys competing because of the people.
"It never ceases to amaze me how many good connections you can make with people during these competitions," said Emmons. "I meet everyone and really enjoy getting to know them."
Unlike Emmons, Pvt. Neil Moncrieffe, a chaplain's assistant at Fort Leonard Wood, doesn't have the experience of six competitions under his belt and found the competition long, intense, and a lot of fun.
"This competition was long," said Moncrieffe. "It was harder than the last one because there were a lot more events, but it was a lot more fun. I just need to make sure I complete every event to the best of my ability and that's all that matters."
Soldiers from U.S. Army , U.S. Army North, and U.S. Army South all competed together, but were graded against only fellow Soldiers within the same command.
For IMCOM, Staff Sgt. Drew Ayers, military policeman, Fort Irwin, and Sgt. Joshua Lantz, military policeman, U.S. Army Garrison Stugart, were runners-up in non-commissioned officer and junior Soldier categories respectively.
IMCOM Soldiers competing for the title this year also included Sgt. 1st Class Michael King, U.S. Army Garrison Japan; Pvt. Neil Moncrieffe, chaplain's assistant, Fort Leonard Wood; and Sgt. David Gerholdt, Fort Leonard Wood.
"I challenge all of the participants to return to your home stations and continue to prepare yourselves and your Soldiers for the physical and mental rigors of war," said Bennett.
IMCOM winners will move onto the next competition, back at Fort Sam Houston and Camp Bullis in June 2019.
Winners of that competition will move onto the Department of the Army's Best Warrior Competition later this year.
"To the team that will continue to the United States Army Best Warrior Competition, good luck to all of you and we look forward to seeing you on the stage after the Army's Best Warrior Competition," said Bennett.