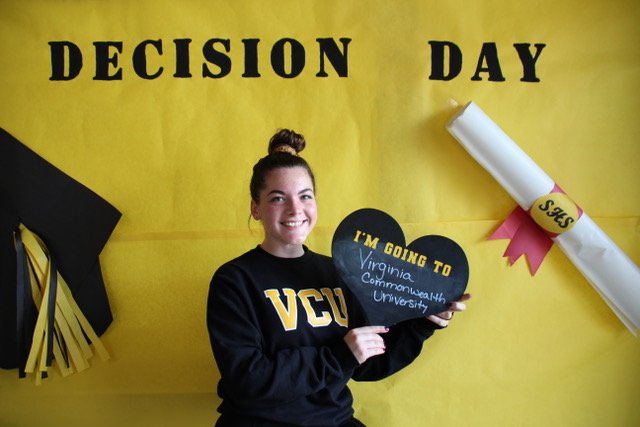 By Evonna Moody
Stuttgart High School
 To some, May 1 was like any other ordinary day; for Stuttgart High School seniors, the date marked the deadline for students to confirm their choice of higher education on National College Decision Day. The Senior Class Council held the event to celebrate the beginning of a new chapter graduating SHS students.
As seniors shuffled into the school cafeteria, they found a handmade, gold backdrop titled: "DECISION DAY," decorated with a giant SHS diploma and a graduate cap. One-by-one, students stood in front of the backdrop to hold a chalkboard sign displaying the name of their college, photographed by yearbook photo advisor Angela Julock. The Senior Class Council also created cutouts for students to take their own photos.
From pursuing higher education, to joining the military, or even immediately entering the workforce, post-graduation plans vary at SHS. According to the DoDEA website, nationwide, it has become expected that high school graduates need to continue their education in a postsecondary course of study, program or training series if they are to have options and opportunities in the current job market.
Guidance counselors helped to facilitate the process of college admission for many, a process that is notorious for the great amounts of paperwork.
Maria Derynioski, who is planning to major in art history at Virginia Commonwealth University, thanked her guidance counselor, Lisa Gingles for assistance on her college acceptance.
"Ms. Gingles helped with letters of recommendations, transcripts, and all of the stuff needed to get into college," Derynioski said.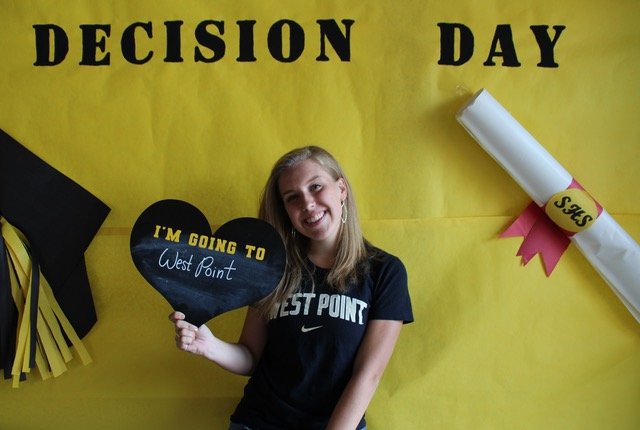 Fellow senior Aidan Wright expressed similar sentiments on the assistance she got from Gingles when applying for the United States Military Academy at West Point.
"There were a ton of forms and extra things that other colleges do not require," Wright said.
Senior class sponsor and substitute teacher, Morgan Jennison, explained that the Department of Defense Education Activity spearheaded the event to encourage schools to commemorate college-career readiness.
Watch the video of the event on the SHS official Facebook page to view the post-graduation plans for SHS seniors.
(Editor's note: Evonna Moody is a senior at SHS and part of the Career Practicum program. She is interested in international relations and journalism.)