By Becca Castellano
U.S. Army Garrison Stuttgart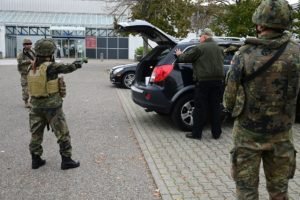 Outside the commissary on Robinson Barracks, sunlight cascades through the trees, igniting autumn colors and glinting across the M-4 rifle barrel of Stabsgefreiter Felix Bacher, a Bundeswehr soldier.
Nearby, Hauptgefreiter ROA Katharina Juergens, an officer candidate in the Bundeswehr, stands guard at the store's entrance. Inside, U.S. Army Spc. Miguel Lopez alerts the store manager to a simulated security concern, during Iron Castle 20.
The four-day bilateral training and partnership exercise between the 52nd Signal Battalion and the Communication and Information Systems Support Battalion 293 offered a chance for U.S. and German troops to practice force protection measures.
On that sleepy Wednesday morning, Bacher turned to the sounds of leaves crunching under the tires of a car pulling into the parking lot. He recognized the car from a recent "be on the lookout" or BOLO alert. He shouted for Lopez and approached the vehicle.
"Stop the car," Bacher yelled, directing the occupants to place their hands on the dashboard.
Juergens, the team leader, donned a mask to check the driver's identification. The suspects were soon against the vehicle, getting searched. Lopez reported the catch into the control center, where Capt. Milo Estrello was overseeing the exercise.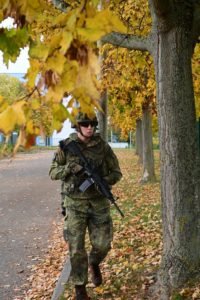 "The overall goal of this exercise is to validate and reinforce our training on how to conduct critical site security," Estrello said. "It was also an excellent opportunity for us to take lessons learned over this past year and apply how we deal with a threat of a deadly virus while still successfully completing missions."
The exercise certified the U.S. troops to conduct anti-terrorism operations. Hosting training during the coronavirus pandemic meant taking precautions like sanitizing high-trafficked areas, ensuring personnel were physically distanced or in masks, and ventilating indoor spaces, Estrello said.
"One of our missions in the 2nd Theater Signal Brigade is to be ready to fight tonight," Estrello said. "Other threats still exist out there. They do not take a day off due to COVID, so neither can we."
German and American soldiers patrolled Robinson Barracks in three-person teams that conducted continuous checks to ensure communication channels remained open. They reported any suspicious personnel or vehicles.
Although they were on alert for physical threats, the invisible virus found its way into several scenarios. One of which Bacher's team faced when they apprehended suspects carrying weapons, found explosives in their vehicle and discovered evidence that they were infected with COVID-19.
"We are dealing with a real-world threat and we wanted to incorporate that into the exercise while actually combating it at the same time," said Estrello, who added that the exercise was a success. "The community should feel safer knowing that if (force protection) levels do rise, we are trained and ready to do our part."