By Rachele Pezzuti
U.S. Army Garrison Stuttgart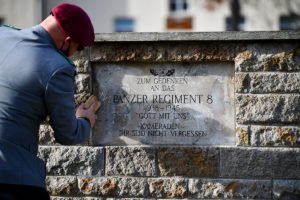 Each November, U.S. Army Garrison Stuttgart leadership takes part in German Volkstrauertag wreath laying ceremonies in local communities.
The garrison oversees community relations for the U.S. military and benefits from attending these events, said Carola Meusel, the garrison's host nation advisor.
"It signals our commitment to the U.S.-German alliance and demonstrates our reverence for the sacrifices of Soldiers who fell in all armed conflicts," Meusel said. "It also demonstrates our recognition of official host-nation observances."
Held two Sundays before the first day of Advent, the national day of mourning, also called Stiller Tag – day of silence, commemorates all those who died in armed conflicts or as the victims of violent persecution worldwide.
These are the kind of events that tell our story, a combined history that speaks to why we are here and illustrates the unbreakable bond between Germany and the United States," said Col. Jason Condrey. "It is fitting that together, we honor those who made the ultimate sacrifice."
In 1919, the German War Graves Commission or, Volksbund Deutsche Kriegsgräberfürsorge, proposed a Volkstrauertag for all German Soldiers who died in World War I. It was first officially observed in 1926. Today, the day is observed to remember and honor all Soldiers who died in all armed conflicts.
The ceremonies are historically attended by high-ranking host nation officials, including lord mayors of Stuttgart, Kornwestheim, and Böblingen, the president of the District Government Stuttgart, as well as service members of the German Bundeswehr and German partnership cities.
Last year, Col. Jason Condrey and Command Sgt. Maj. Toese Tia represented the U.S. military in Stuttgart and Böblingen. Representatives from the Veterans of Foreign Wars joined them in Stuttgart. Students from the Junior Reserve Officer Training Corps took part in Böblingen. In Kornwestheim, Col. William Lovell, the USAG Stuttgart chaplain and two other garrison Soldiers took part.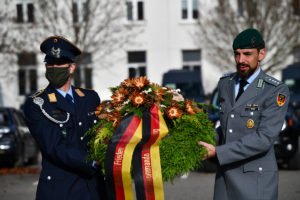 This year, both ceremonies were downsized, due to COVID-19. In Kornwestheim, Lord Mayor Ursula Keck presented one wreath with a ribbon in the colors of the city, symbolic for all wreaths.
On Nov. 8, German Command Sgt. Maj. Thomas Franck and other Bundeswehr soldiers lead a wreath-laying ceremony at Panzer Kaserne, at a German army memorial near the 10th Special Forces Group (Airborne) headquarters. The event, held for the first time since Sept, 11, 2001, is in memory of fallen Soldiers in all armed conflicts, Franck said.
Normally, the local Jewish community holds a memorial service in late November outside Stuttgart Army Air Field to remember Holocaust victims who died in a labor camp there near the end of World War II. However, due to COVID restrictions, this year's ceremony has been cancelled.