By Rick Scavetta
USAG Stuttgart Public Affairs
Gathering garrison employees together each quarter is a priority for Col. Jason Condrey, commander, USAG Stuttgart, to recognize their achievements and address their concerns.
Two employee town hall events were held recently, Feb. 5 at Panzer Kaserne and Feb. 10 at Kelley Barracks.
"I want to take the opportunity, at least one once a quarter, to recognize members of our team that make an impact, day in and day out," Condrey said. "This also give you an opportunity for you to talk directly to me, to help with things that I can."
Frank Jenkins, a human resources' employee who works in the passport and ID card office, was recognized for his work and his role as a the garrison coordinator for the Combine Federal Campaign. The command selected him as the 2019 professional of the year. Dr. Kaffie Clark was also recognized as the 2019 professional of the year.
In the competition for supervisor of the year, Phil Masterson, garrison Military Personnel Division, took the accolades but dedicated his win to his colleagues.
"This is not mine, it's my teams'," Masterson said of the MPD staff, who were also recognized as the professional team of excellence, for the 4th quarter of 2019. "They made this happen."
Condrey presented commander's coins to John Arnold, a passport office employee who recently received several positive comments from community members for his work, and Rachele Pezzuti, who recently supported the command team as a driver while also working in her normal role as a human resources assistant.
Tecle Kebreab, a civilian employee who works for the housing office at Robinson Barracks received an award for 40 years of Army service. He began in supply in 1979 at Wallace Barracks in Bad Canstatt. Franz Bergmeier began his career 45 years ago in Bavaria. Over the years, Bergmeier helped close recreation centers in Berchtesgaden and Army posts in Augsburg and Bad Aibling. He came to Suttgart in 1998 and has worked in housing since.
"I've enjoyed every day and I'd do it all again," Bergmeier said.
At Kelley, the 2019 professional team of excellence award went to the public works directorate's environmental division.
"It's a great effort, a team effort," said Anja Emmenecker. "We couldn't perform on a single basis."
At Panzer, newcomers to human resources, Army Community Service and resource management were welcomed to the team. The garrison also said farewell to key staff members, such as Nick French, head of resource management, who's headed to Fort Sam Houston, Texas and Ricardo Hernandez, a housing management specialist who's moving to Fort Jackson, South Carolina.
Tawania Kovacs was recognized for her role as the head of Army Community Service during the past five year. Condrey presented her with the meritorious civilian service medal.
"I'm glad I live here," Kovacs said, calling out over the applause. "Y'all come see me in California."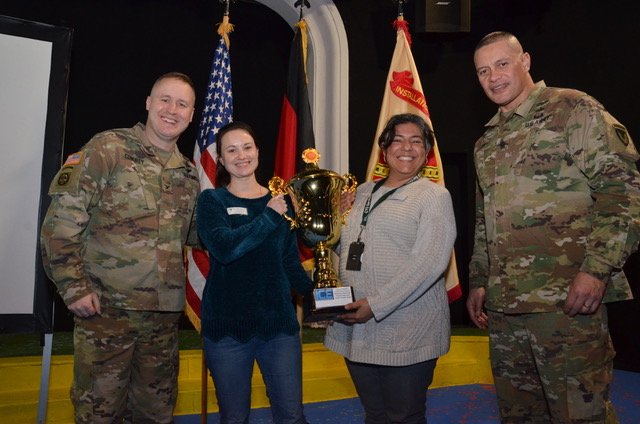 Robinson school age and youth team awarded ICEBreaker award
During a Feb. 10 meeting at the Kelley Theater, Col. Jason Condrey presented the ICEBreaker award to the employees of the school age and youth center.
"Promoting great customer service has remained one of the cornerstones of their program's success," Condrey said.
The award is presented to an individual or team that made special efforts to improve services base on customer feedback received through the interactive customer evaluation, or ICE, system. Other customer feedback is also considered.
Employees Elisabeth Stephens and Erin Hyde accepted the award for the team.
The trophy will be displayed at the Robinson CYS facility. This is the third time the garrison recognized staff with the quarterly award. Awards also went to the vehicle registration team and fitness center staff.