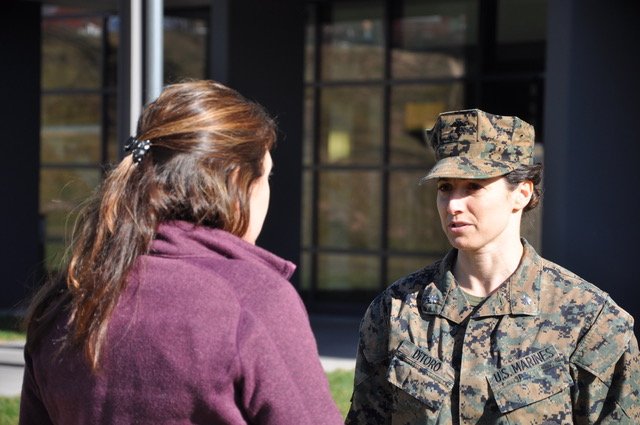 Story and photos by Joel Wasko
USAG Stuttgart Public Affairs
Lt. Col. Dianna DiToro can use Gold Star parking spaces here at U.S. Garrison Stuttgart, but rarely does.
In fact, DiToro, who arrived at Marine Forces Europe and Africa in August 2019, has only used that entitlement a handful of times.
"When the parking lot is full, I feel like I jerk for not using that space because I can park there and I'm not parking there," DiToro said. "However, one time, there was literally no other place to park so I did. Then somebody confronted me for parking in the spot and claimed I didn't know the sacrifice of Gold Star families."
DiToro's husband, Lt. Col. Tom Budrejko, served as executive officer of Marine Light Attack Helicopter Squadron 469 and as a weapons and tactics instructor for Cobra helicopters.  In Feb. 2012, Budrejko, along with six others, was killed in a mid-air collision during a night training mission, in preparation for an Afghanistan deployment.
DiToro's 10-year-old son re-engaged her attention to the Gold Star parking spaces.
"At the Stuttgart Army Health Clinic, there is a Gold Star parking space. One day he said, 'that spot is always full, are there that many other Gold Star Families here?'" DiToro said.
Kerry Dauphinee, the Army Community Service coordinator for Survivor Outreach Services, said there are more than 50 Gold Star families at USAG Stuttgart, but only a dozen or less using the services provided. SOS ensures survivors receive necessary services, such as financial counseling or the coordination of benefits.
Not long after DiToro' s experiences, she approached SOS with the idea of a Gold Star parking permit for the car dashboard for Gold Star Families. This would allow families to maintain force protection precautions off-base while providing legitimacy of use.
"It's so important for Survivors to come see us, because once they come in to meet us we can determine what else we can help with," Dauphinee said.
Dauphinee is working on Gold Star parking permits to avoid situations, such as DiToro experienced. He is also will provide installation access to direct families and next of kin who are American or local nationals to enable them to take care of necessary business.
"For example, one local national mom has banking business that she needs to take care of for her son who died in action," Dauphinee said. "Other Gold Star spouses had their children finish or in some cases start at the Patch Elementary School."
One of the most important SOS purposes is to connect people. DiToro and Emily Hoey are working with Dauphinee to create socials events, such as Gold Star and survivor recognition days. Hoey's husband, Capt. John Tinsley, was killed in Afghanistan by an improvised explosive device on Aug. 12, 2009, while deployed with 2nd Battalion, 7th Special Forces Group.
"It feels good to connect with others who have walked in similar shoes, and to be able to share our stories and experiences together can be very therapeutic," Hoey said, noting that through socials, her daughter can meet other Gold Star and survivor children.
"I feel, by allowing our children the chance to meet and tell their stories they can continue to grow and heal together," Hoey said.
As USAG Stuttgart has service members from all branches, SOS cares for survivors, no matter the branch, Dauphinee said. He hopes to reach out to more survivors, some who may not be aware of the services available to them.
"We appreciate the opportunity for increased visibility, to let others know that hope and life can exist after loss. We hope to add to the resilience of the USAG Stuttgart community," Dauphinee said. "My hope is to educate folks, that surviving families come in all forms. We remain appreciative for these small but significant acknowledgements of our loved ones' sacrifice."
For DiToro, knowing where resources for support are, is comforting.
"You never know when you're going to need help as a survivor," she said.