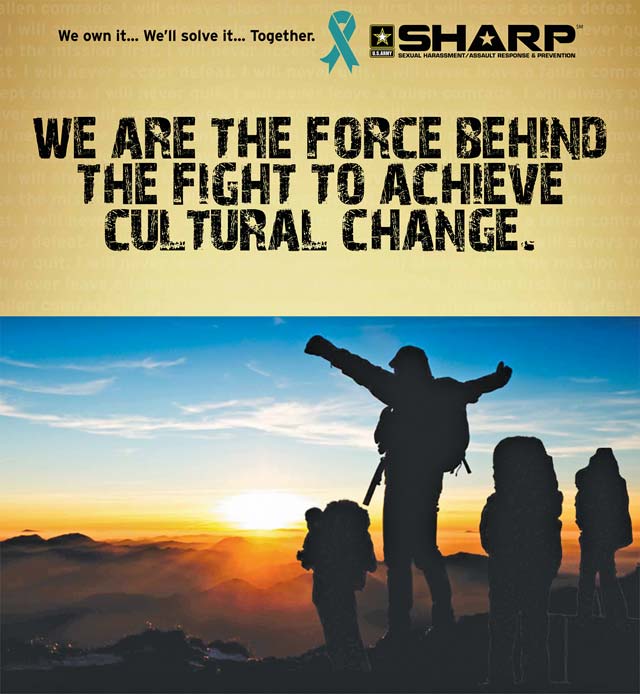 By Rhonda Franklin
Sexual Assault Response Coordinator, Army Community Service
USAG Stuttgart
During April, USAG Stuttgart observed Sexual Assault Awareness and Prevention Month, beginning with a proclamation ceremony. During the ceremony, the garrison command team of Col. Neal Corson and Command Sgt. Maj. Toesa Tia, along with the commandants from every resident command, vowed to commit themselves to the elimination of sexual assault and sexual harassment in the Stuttgart community.
The command, along with other senior leaders present, promised to hold offenders accountable and to support the recovery of those directly impacted by sexual offenses. The commitment to action and response was signed in ink by the garrison leadership and were publicly displayed at Army Community Service for the duration of the month. Other community events during the month included "Boots on the Bus" and a SHARP mini-workshop.
Boots on the Bus is SHARP training while participants are in route to a pre-planned destination; the objective is to foster a session that not only fulfills the annual SHARP training requirement in a unique and interactive way, but also is designed to be a facilitated discussion designed to uncover any potential behaviors, activities or incidents happening in the community that may need to be addressed by the command. This year the destination was Europa Park.
Personnel from all commands and all service branches were invited to join the training, meet the local SHARP team and participate in a solution-focused conversation. The training was led by the garrison Sexual Assault Response Coordinator (SARC) and Victim Advocates from other commands. The training event was open to all active duty military personnel. Participants received information on how to make a report of sexual assault or sexual harassment, discussed ways that prevention and awareness could be more focused and shared their opinions on how the program was working overall.
The SHARP mini-workshop was a three-day workshop for those who've already attended the 80-hour baseline course and have Victim Advocacy credentials. The workshop provided information and tools to help enhance the response capability of Victim Advocates. Attendees gained first-hand information directly from sexual assault first responders such as the sexual assault medical director, CID Special Agent In Charge, Inspector General, Special Victim's Counsel and the chaplain. Advocates also received the most current releases of operating procedures and policies that regulate the program. Included with training was scenario-based exercises on victim response and self-awareness. The workshop was rounded out with a first-hand account of victim advocacy in action as described from a survivor of childhood sexual assault.
The garrison SHARP team hopes that the topics discussed and the lessons learned will continue throughout the year. Raised awareness and the ability to effectively respond will help stop sexual offenses from occurring. We charge everyone to take action toward the total elimination of these crimes from within our community.