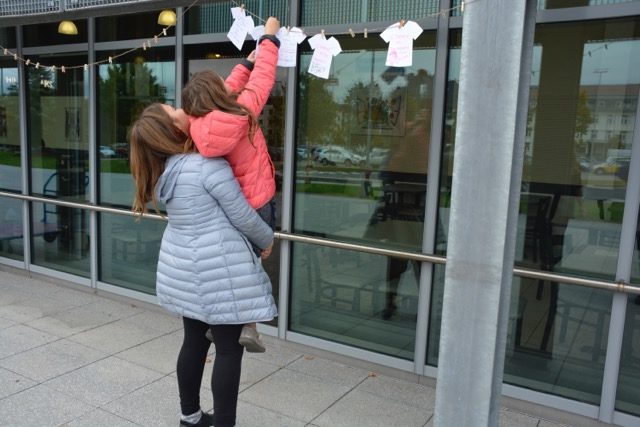 By John Reese
USAG Stuttgart Public Affairs
To observe October as Domestic Violence Awareness Month, the U.S. Army Garrison Stuttgart Army Community Service Family Advocacy Program invited community members to decorate small paper t-shirt cutouts to hang in front of the main Exchange on Panzer Kaserne, Oct. 2.
As USAG Stuttgart is a multi-service garrison, all community members were encouraged to attend and participate.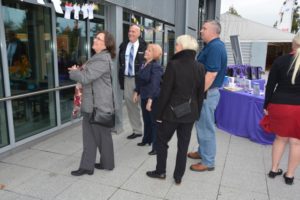 The Army has made a point of calling attention to domestic violence and the harm it causes since Oct. 1987, and it emphasizes that domestic violence is never okay.  During October, resources that help Army Families develop life skills, maintain positive relationships and encourage help-seeking behavior are highlighted.
"We're doing the 'clothesline project,' a visual display dedicated to raising awareness about the reality of violence in our society," said Rita Goldstein, manager, Family Advocacy Program. "Participants are asked to create t-shirts that reflect their ideas on how they deserve to be treated, so they just need to write on the shirt, 'I deserve to be treated' and fill in the blank.'"
The participants got to work quickly expressing themselves on how they felt. A few minutes after the tables were set up and passerby were aware of the project, a string of completed t-shirts was soon growing along the front of the Exchange building.
"As you can see, we have this beautiful display with some t-shirts already," Goldstein said.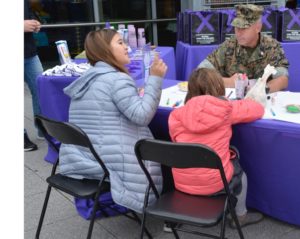 Marine Col. Sean McBride, chief of staff, Marine Corps Forces Europe and Africa, drew out his own t-shirt as  sisters Luciana and Isabella Duggan, ages 6 and 11, respectively, completed their own.
"He came here to represent (MARFOREUR/AF) because we think this is important and the command wanted to be here," said Mrs. Michelle McBride, watching her husband as he worked.
Domestic violence can be defined as "a pattern of behavior in any relationship that is used to gain or maintain power and control over an intimate partner," according to Army OneSource. "Abuse is physical, sexual, emotional, economic or psychological actions or threats of actions that influence another person. This includes any behaviors that frighten, intimidate, terrorize, manipulate, hurt, humiliate, blame, injure or wound someone. Domestic violence can happen to anyone of any race, age, sexual orientation, religion or gender. It can happen to couples who are married, living together or who are dating. Domestic violence affects people of all socioeconomic backgrounds and education levels."
Participants were treated to a swag bag to carry domestic violence awareness with them every day.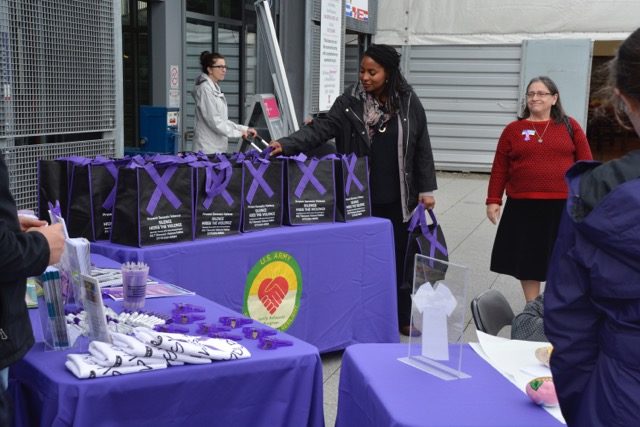 Signs of an abusive relationship
Source: National Domestic Violence Hotline
Does your partner:
Embarrass you with put-downs?
Look at you or act in ways that scare you?
Control what you do, who you see or talk to or where you go?
Stop you from seeing your friends or family members?
Take your money or Social Security check, make you ask for money or refuse to give you money?
Make all of the decisions?
Tell you that you're a bad parent or threaten to take away or hurt your children?
Prevent you from working or attending school?
Act like the abuse is no big deal, it's your fault, or even deny doing it?
Destroy your property or threaten to kill your pets?
Intimidate you with guns, knives or other weapons?
Shove you, slap you, choke you, or hit you?
Force you to try and drop charges?
Threaten to commit suicide?
Threaten to kill you?
If you answered 'yes' to even one of these questions, you may be in an abusive relationship. For support at any time and more information, please call the garrison's Domestic Violence Victim Advocate line at 0176-262-48894.