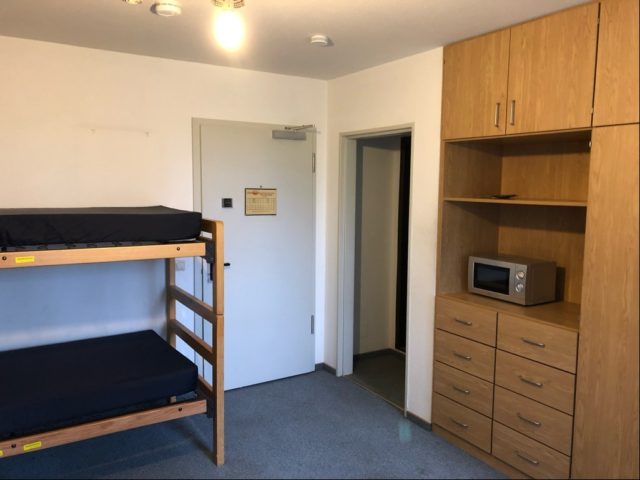 Story by John Campbell
USAG Stuttgart Public Affairs Director
Victor Calcaño had just begun his second week at his new job when he received an assignment that caused another veteran employee to "start sweating."
The task was relatively simple—find vacant buildings in the U.S. Army Garrison (USAG) Stuttgart footprint that staff could convert into living space for up to 100 service members who might come to the area to support eastern Europe security operations. However, Calcaño and other team members with USAG Stuttgart's Directorate of Public Works (DPW) quickly found the path to success was much more complex.
"It was a lot to take in," said Calcaño, the new Installation Coordinator for Robinson Barracks. "When you're a person asking to build a wall, you don't see all the things that happen behind the scenes that go into the final product. I learned how much work goes into a project like this."
The DPW team determined the most viable solution for quickly converting vacant space into living space was to focus on a building that previously housed the Hilltop Hotel at Robinson Barracks. Although more than a decade had passed since the building was used as a hotel, the fixtures and plumbing were in relatively good shape.
"We were lucky to find a building that had closed years ago that was still in adequate condition," said Marisa Barrie, Director of Public Works for USAG Stuttgart. "We were nervous about the plumbing, the building equipment, and the water quality, but we put a plan together and at each check point, we received positive results."
The project required quick coordination from many divisions within DPW and the garrison's Base Ops contractor.
"I've never seen anything like it," said Sandra Smith, Deputy Chief of USAG Stuttgart's Housing Division. "People worked very hard. Everyone was helping each other and knew how important it was to get this done on time."
Smith helped coordinate the delivery of furniture from the garrison's warehouse. Staff installed a microwave and refrigerator in each room and explored creative ways to increase the number of beds in the building.
"We had carpenters on hand who were turning single beds into bunk beds," said Smith. "The teamwork was great and the energy level was high."
Teamwork was the constant theme from those interviewed. They cited the unity of purpose that developed from having a clear understanding of the goal they were trying to achieve.
"I'm really proud of what the team was able to accomplish in just a couple of weeks," said Barrie. "Several creative and dedicated people came together to get this done with very little cost and we know we have made a contribution to mission readiness. It feels great!"