By Michael Collier
Public Affairs Volunteer
USAG Stuttgart
Event photos by Sgt. Alexis "Lexi-G" Gonzalez, AFN Stuttgart
Community members gathered recently at Patch Barracks to remember the legacy of Dr. Martin Luther King Jr., the iconic civil rights leader from the 1960's.
During the lunchtime event, held Jan. 23 at the Swabian Events Center, Dr. Marllon Atherton spoke about King's history and impact on future generations. Atherton, a decorated combat veteran and senior pastor within CORE Global Ministries, highlighted the virtues of tolerance.
"I believe it's an important day for us to reflect and remember and not forget what (King) did for us in the past," Atherton said. "It goes back to finding your purpose. If everybody discovers their purpose and works selflessly and bring that to the forefront, we're able to work together. Not thinking about the color of your skin, or your sex or where you came from … but being able to pull those things together, to work together, for the community and the uplifting of mankind."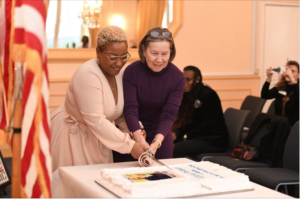 Musical guests PB&J, an American group from the Kaiserslautern military community, offered a live performance, to include a soulful rendition of "Lean On Me."  The band chose songs that resonate King's message, connecting his ideas to people through music, said singer Journi.
"When you're not strong, I'll be your friend, somebody to lean on," Journi said. "These are words that resonate with the message that Martin Luther King was sending with the non-violent approach, the non-confrontational approach to a positive change for the future, for positive change."
Community members in attendance praised the relevancy of Atheron's speech and enjoyed the music. Some reflected on the ways King had impacted their lives. One participant, Marcus Jones, said communities are striving to become more aware about equal rights.
"We can always look back to Martin Luther King and his teachings to provide guidance, even today," Jones said.
[slideshow_deploy id='48675′]