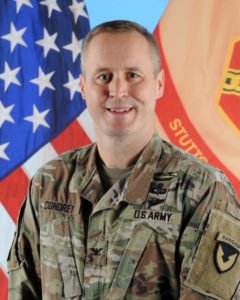 By Col. Jason W. Condrey
Commander
USAG Stuttgart
Since taking command of U.S. Army Garrison Stuttgart in July, my family and I have received an incredibly warm welcome from our military community and our German host nation community partners.
For that, I'm grateful. Starting a new job is always easier when your family is cared for.
During the first few weeks, I've had the opportunity to meet our team, a great group of seasoned professionals dedicated to serving our community. At our recent workforce town hall, I shared some things that we must do to successfully support this Joint community. I believe these ideas will set the tone as we plan, prepare and execute garrison efforts that support the 24,000 military members, civilians and their family members who call the Stuttgart military community home. 
We're here to protect our community, support readiness, maintain infrastructure and deliver services and programs to support our community members and their families. To do so, we will focus our resources, preparation and training toward three areas:
Be ready and engaged
That's our top priority, making sure people assigned here is Stuttgart have all they need to their jobs, day in and day out. The garrison provides more than 200 services and capabilities to this community spread over five installations. Also, connectivity with our local national partners is vital. They are the fabric upon which we weave this community together. Engaging them allows us to be better. 
Build a resilient team of teams 
Make newcomers feel at home quickly. Offer them support, have them feel included and tell them about all the resources available to them. Find and eliminate "insider threats" that can damage us from within. What do I mean? Those things that tear communities apart – discrimination, sexual assault, harassment, domestic violence, suicide, drug and alcohol abuse. We must actively seek ways to reduce the problems. Developing leaders and our workforce will make us better.
Be results focused
Garrisons are judged on what we deliver. Our focus and ability to think critically, while anticipating future developments and encouraging creativity, will guide us to success.
Our five major tenant units have oversight of complex and complicated missions. In some cases, our community members travel far away and often in harm's way. When back here at home, our people deserve the very best we can offer. The garrison is here to provide for them, and their families – programs, service and support that they have earned.
I look forward to leading this great garrison team – Soldiers and civilians who are doing amazing things to support our community. Although it has been just a few weeks, I can honestly say … I'm glad I live here.