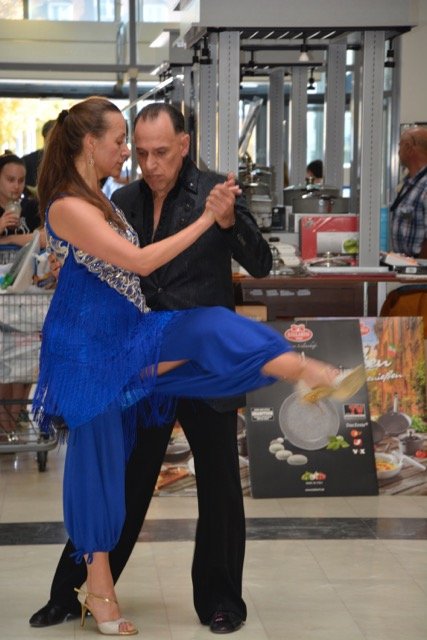 Story and photos by John Reese
USAG Stuttgart Public Affairs
The USAG Stuttgart and U.S. African Command Equal Opportunity Offices joined forces with the Special Operations Command Europe senior enlisted leader to bring the community the Hispanic Heritage Month observance at the Panzer Exchange, Oct.13.
Held within the Exchange mall at the 4-way intersection near the entrance, the event featured a salsa dance performance by the team of Claudia and Chico, a cake cutting and food sampling of Mexican cuisine.
"We have taquitos, beans, rice, guacamole and salsa," said Wendy Webster, who dished up generous samples along with other volunteers, including Carolyn Becks, manager, USAG Stuttgart Equal Employment Opportunity.  Webster noted that samples were very popular with attendees, especially the fresh guacamole.
Guest speaker Command Sgt. Maj. Bruce Holmes, SOCEUR, who came to Stuttgart about four months ago from Fort Bragg, North Carolina, said he felt honored to be personally invited to speak by the garrison installation command team because of his Latin-American origins. It was the first time he'd been asked to speak as such an event in Germany.
"I think it's strikingly interesting that you would have somebody of Hispanic descent make opening remarks. I was graciously asked by Command Sgt. Major Toesa Tia," Holmes said. "I was proud to do it and I think its absolutely important that we embrace not only the ethnicity of Hispanic origin, but ethnicities of the international world, because we have people from many countries who serve in the United States military. I think its important that we take time to reflect that and thank them for their service."
Master Sgt. Deonda M. Clarke, AFRICOM EO, kept the celebration moving as emcee.
[slideshow_deploy id='41019′]
A few partners took to the dance floor after the performance, swirling to Hispanic music by DJ Anjo Marte, a native of the Dominican Republic. Marte has been spinning records in clubs and at events in Germany for 30 years, specializing in salsa.
"Right now in Germany, dancing is cool," Marte said. "The Stuttgart community can participate on Latin nights every fourth Saturday of the month in the Patch Community Club. We have salsa, Mexican music and more."
Hispanic Heritage Month goes back to 1968, explained Sgt. 1st Class Pierre Boynton, garrison EO adviser.
"We recognize the contributions made and the important presence of Hispanic and Latino Americans to the United States and celebrate their heritage and culture," Boynton said. "The observance is celebrated during this timeframe due to the many significant events for various Hispanic communities which fall within the observance period."
The next EO event coming up in November will be the National Native American Heritage Month observance. Details will be provided as they become available, or contact the garrison EO at 431-3756.
The garrison EEO office's new location is in rooms 408 and 409, Bldg. 2948, Panzer Kaserne. Call 431-3355 for more information.